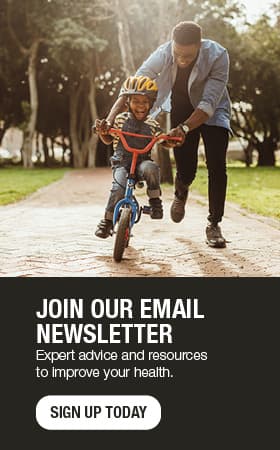 Physician shares COVID-19 experience
Deepi Goyal, M.D., Emergency Medicine physician and regional chair of practice for Mayo Clinic Health System in Southeast Minnesota, now can draw on personal experience, as well as his medical expertise, in leading Mayo Clinic's COVID-19 pandemic response in the region. After recovering from a bout with COVID-19 himself, Dr. Goyal wants to be sure people take the virus seriously and take the recommended steps to protect themselves and others.
Dr. Goyal says he believes his daughter contracted the virus at work. When she tested positive for the virus, the family did their best to strictly quarantine and maintain social distance within their home. Despite this, nine days later, Dr. Goyal began experiencing muscle aches, a low-grade fever and extreme fatigue. A test confirmed that he, too, had the virus.
While Dr. Goyal says he never developed trouble breathing or other serious symptoms, the illness still had a significant effect. He was sleeping 12 to 15 hours a day for four days and was extremely fatigued for about two weeks. It took around three weeks before he was feeling back to normal.
"I can just imagine what it's like for people with preexisting conditions or who may not be as healthy," Dr. Goyal told the Albert Lea Tribune, "This really has the potential to take a significant toll."
Symptoms of COVID-19 may appear two to 14 days after exposure. Common signs and symptoms include fever, cough and tiredness. Other symptoms can include a loss of taste or smell, shortness of breath or difficulty breathing, muscle aches, chills, sore throat, runny nose, headache and chest pain. Other less common symptoms have been reported, including rash, nausea, vomiting and diarrhea.
COVID-19 symptoms can range from mild to severe, and people with the virus can experience a wide variety of symptoms or no symptoms at all. For some people, symptoms get worse after about a week, such as worsened shortness of breath or pneumonia.
Children generally have a mild illness. People who are older or have existing chronic medical conditions may have a higher risk of developing a serious illness.
With his personal experience behind him and information still emerging about the virus, Dr. Goyal says COVID-19 is a different illness from others that are more familiar to the medical community. As the pandemic continues and some students return to school, Dr. Goyal says he hopes people continue to take safety precautions, such as masking, social distancing and proper hand hygiene. He advises getting a flu shot every year, but this year will it will be more important than ever.
Dr. Goyal also encourages people to develop plans for quarantine, should the need arise.
"Proactively identifying a quarantine space and logistics, such as how to get food, supplies and entertainment, would have saved a lot of last-minute scurrying," he says.