We are experiencing high call volumes:
Use your account on the Mayo Clinic app or patient portal to check symptoms, get care recommendations and make an appointment.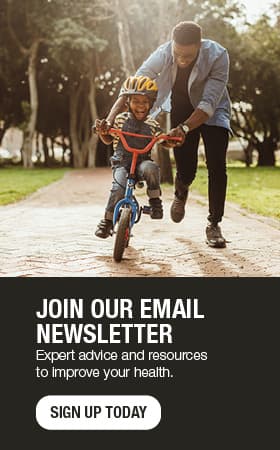 Not backing down from a challenge with cancer
Peter McLean isn't one to back down from a challenge.
When he and his wife, Brenda, arrived at the Stillwater, Minnesota, courthouse to get married by a court justice, there was a big case tying up all the courtrooms. So, they asked a retired judge to help out, and they got married that day in a courthouse storage closet.
"There we were, saying our vows with old blackboards and stools stacked up in the corner," says Peter. "But you know what? It was just me and Brenda, and it was just as romantic as it would have been in any church, anywhere."
Then there was the yard of the home they now share in Eau Claire, Wisconsin.
"When we first moved in, it was pretty bad," he says. "The lawn was bare sand."
Together, the two of them dreamed, planned, then dug and worked. Now their yard is an oasis for them, their grandkids, and a host of butterflies, deer, wild turkeys, foxes and bald eagles.
But when Peter was diagnosed with cancer in 2011, it knocked the wind out of him a bit. He didn't know whether he was up for this particular challenge.
The bad news
Peter had persistent swollen glands in his neck for a few months. At the urging of his wife, he finally went in to see his doctor at Mayo Clinic Health System in Eau Claire for an evaluation. After a round of antibiotics that didn't work, then testing, then a biopsy, oncologist Larry Past, M.D., gave Peter the bad news.
"He said I had stage four-plus squamous cell carcinoma," says Peter.
The cancer was in Peter's tongue and lymph nodes. As he does with all his patients, Dr. Past was honest with McLean about what lay ahead for him in cancer treatment.
"The talks that I have to have with my head and neck cancer patients aren't very cheery, because it's a pretty rough course of treatment," says Dr. Past. "Their sense of taste goes away, the treatment messes with the saliva glands, the entire mouth gets sore and it's hard to swallow, among other symptoms. As their doctor, I have to warn them about the worst that can happen."
Peter left that appointment not knowing what to do next.
"Frankly, it came into my mind to move to New Zealand and fish for trout until it was over," says Peter. "I took a day or two to wrestle with it. I finally decided that doing something frivolous just wasn't me. I'm a father and a husband, and I decided that fighting was the most important thing to do."
The good news
Just after he had made the decision to fight, Peter's phone rang. It was Dr. Past.
"He said, 'I have some very good news for you,'" Peter recalls.
Dr. Past had been doing some of his own research while Peter was wrestling with his decision.
As he does often, Dr. Past discussed Peter's case with his colleagues in what they call a "Tumor Conference," which includes medical staff from Oncology, Radiology Pathology, Radiation Oncology, Surgery and Palliative Care, all from Mayo Clinic Health System in Eau Claire.
During their discussions, it was suggested that Peter's tumor be DNA tested for a particular virus that can cause squamous cell carcinoma. The test came back positive for the virus, which was good news for Peter because it increased his chances of survival significantly.
That was the news Dr. Past was calling about.
"I laughed, I cried, you name it," says Peter. "You can imagine getting this news right after I'd made the decision to fight. It was possibly the best present I could have ever gotten."
The treatment for squamous cell carcinoma
Dr. Past was right. Peter says that going through chemotherapy and radiation for cancer wasn't easy. There were many weeks of treatments and difficult side effects. But still, he gives thanks for the people at Mayo Clinic Health System who helped him get through it.
"The doctors designed a treatment program that was attacking the cancer from all sides, but it was damaging and difficult," Peter says. "Yet, I felt like I was in angels' arms the whole time. I'm telling you this straight from the heart: Those are the kind of people you want on your team. They all know your name when you walk in, and they take time to understand you and your situation."
Peter is especially thankful to Dr. Past, who didn't give up on him even when he was ready to give up on himself.
"Dr. Past took the time and cared enough about me, to have the tumor tested and bring me good news," he adds.
Dr. Past is glad to be part of this happy ending, but he also says Peter's story is typical at Mayo Clinic Health System.
"My colleagues and I consult with one another all the time on the patients we're treating," he says. "I'll bring them up in conference or by email. We share knowledge and give advice on next steps. It's just how we operate, in the best interest of every patient."
Back to enjoying his backyard
Of course, Peter gives most credit to his wife and children for helping him get through the tough treatment. Today, he's happily cancer-free, enjoying the backyard butterflies again.
"The yard is the same, Brenda is the same, but I'm not the same," he says. "I have a different perspective. We're closer, and we enjoy the beauty of what we've created more deeply."
Peter says access to expert health care was something he hadn't appreciated before.
"Having Mayo Clinic Health System this close to me was like a diamond undiscovered," he says. "It's just a stone's throw from my back door. It was a gift to me when I needed it most.
"My whole world is right here," he adds, "and I'm so glad Mayo Clinic Health System is here, too."
---
For the safety of our patients, staff and visitors, Mayo Clinic has strict masking policies in place. Anyone shown without a mask was either recorded prior to COVID-19 or recorded in a non-patient care area where social distancing and other safety protocols were followed.
Topics in this Post