We are experiencing high call volumes:
Use your account on the Mayo Clinic app or patient portal to check symptoms, get care recommendations and make an appointment.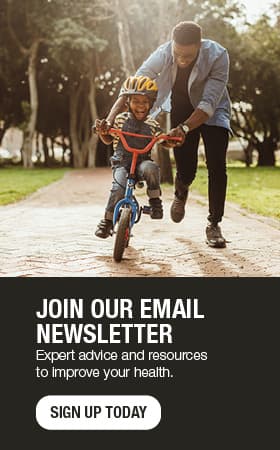 Paul Berg's Story: Treating the cancer
Berg was then referred to George Chow, M.D., a Mayo Clinic urologist, for treatment. On Jan. 30, he checked into Rochester Methodist Hospital and had surgery to remove the tumor.
"We do a large volume of cases like Mr. Berg's, so we have very good outcomes," says Dr. Chow, who was able to save a portion of Berg's kidney during the surgery.
Berg says he was impressed by the care he received and by what happened behind the scenes to make that care possible.
"The people who cared for me, from the surgeon to the nurses to the housekeeping staff, were wonderful and I have nothing but the highest regard for them," he says. "I was also incredibly impressed by the flow of information among all the providers I was seen by. Throughout the entire process, every doctor I met with was able to review my records and test results online. That eliminated repeat testing, and ensured each physician had the most up-to-date information about my condition."
Today, Berg is doing well. Doctors told him they were "99 percent sure" they removed all the cancer. He's grateful for that, but says recovery is slower than he would like.
"I am a type A personality and I like to get things done, but I'm not able to do as much as quickly as I was before surgery," says Berg. "They say that it could take up to two years to fully recover."
That troubles Berg, who is anxious to resume everything he did before his diagnosis — including answering the call when his neighbors need him. "I can still use my head, but physically I can't do what I did before, yet," says Berg, who is determined to continue in his role as a first responder in some capacity. "I care about the people in our community, and it concerns me greatly to think that they might not have someone to call when they need help," he says. "It can take 15 minutes for an ambulance to get to Odin, and that's an eternity in an emergency."
Berg often thinks about the people he's helped over the years, including the woman whose call led to his diagnosis. She died that day at the hospital, and Berg realizes the irony of what happened that cold January day.
"If I hadn't gotten that call, I wouldn't have hurt my back and wouldn't have had the tests that led to my diagnosis," he says. "The type of cancer I had usually doesn't have any symptoms and isn't found until it's much larger than mine and has spread beyond the kidney. The patient I was unable to save actually saved me."
<< Part I: First responder answers a call that changes his life
---
For the safety of our patients, staff and visitors, Mayo Clinic has strict masking policies in place. Anyone shown without a mask was either recorded prior to COVID-19 or recorded in a non-patient care area where social distancing and other safety protocols were followed.