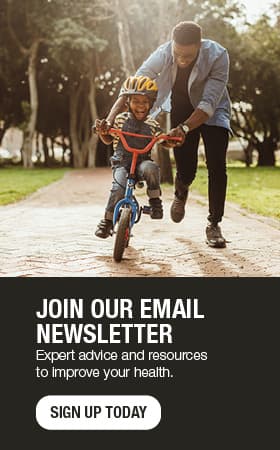 Osseo woman beats the odds and is breathing easier
Not long ago, Cindy Mock was a self-described "dedicated smoker" who puffed a pack to a pack and a half of cigarettes a day. That changed in January when Mock found the encouragement she needed to kick the habit and the care she needed to treat her chronic obstructive pulmonary disease (COPD).
Everything the 51-year-old Osseo woman did revolved around smoking. "If I was preparing a meal, I would be smoking with one hand and fixing the meal with the other," recalls Mock, a smoker of 26 years. "It was the same thing playing on the computer or talking on the phone. My life was centered on smoking."
But that all changed on Jan. 31, 2012, when Mock kicked her cigarette habit after receiving some convincing encouragement from her son and grandson. She admits she struggled, but, now cigarette free, says she loves "not being chained down to that habit."
Meanwhile, Mock's health was fading, largely because of her smoking.
"I couldn't walk across my living room, which is 14 steps, without stopping and resting," Mock says.
She remembers a close call in April 2012 when she narrowly avoided a traffic accident. The incident shook her, and she began hyperventilating and gasping for air. Mock was able to make the short drive to Mayo Clinic Health System in Osseo, but knew she was in trouble.
Mock suffers from severe COPD, which was exacerbated by the anxiety from her near-miss with the other car.
"At that point, she could hardly get up out of bed by herself. Her CPOD was that bad," says Jad Roeske, M.D., a family medicine physician at Mayo Clinic Health System in Osseo.
Pulmonology exams revealed that Mock had severely decreased lung function. A person with severe lung impairment often has significantly decreased life expectancy compared to people with normal lung function. Her pulmonologist, Morris Pasternack, M.D., discussed options with Mock and urged her to start therapy and consider a lung transplant.
Mock enrolled in the health system's 12-week respiratory therapy program and learned more about her disease and how to manage it. Her lung capacity increased because of the regular, controlled exercise that is an important part of the program.
Fortunately, her health today is dramatically different. She praises the team of respiratory therapists she worked with for their encouragement and much-needed emotional support.
"A lot of patients are in denial about their breathing and why it's so bad," Mary Mathis, respiratory therapist says. "Mock knows she had trouble and it's been progressively getting worse — and she's doing everything she can to get better."
Although Mock continues to rely on oxygen and medications to manage her condition, she is doing better than any of her providers imagined. She is biding her time until she becomes eligible for an experimental umbrella valve replacement, which would help her lungs work more efficiently, thereby decreasing shortness of breath. Mock remains hopeful for the future — and grateful for a medical team so committed to her helping her beat the odds.
"My team of support has been just astronomical," Mock says. "Mayo Clinic staff not only saved my life but helped me create a life that was worth living."