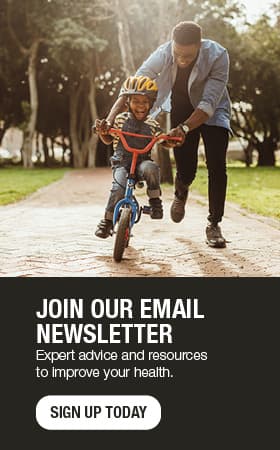 One shake is all it takes
Kelsie Kuyath turns daughter's experience with shaken baby syndrome into a mission to help others.
Kelsie Kuyath was at work when she received a phone call that would change her life. Her then-husband was on the line, telling her that their youngest daughter, 4-month old Kyra, was having a seizure. Kuyath, a patient access liaison in the Emergency Department at Mayo Clinic Health System in Red Wing, Minn., told him to bring Kyra in for evaluation.
"He brought her in her car seat," remembers Kuyath. "She was limp and was hardly breathing."
Kuyath's colleagues evaluated Kyra and quickly determined she would need advanced care. They summoned a Mayo One helicopter, which transported Kyra to Mayo Clinic in Rochester, Minn. Doctors there diagnosed her with non-accidental head trauma, or shaken baby syndrome. Two days later, Kuyath's then-husband admitted to police that he had become frustrated by Kyra's crying and had shaken her. Kuyath was devastated.
"We were high school sweethearts and had been together eight-and-a-half years," says Kuyath. "He was never violent. He was a loving father."
On the fourth day of her hospitalization, Kyra had surgery to relieve pressure in her brain. After eight days, she was able to leave the hospital. Though relieved that Kyra was able to come home, Kuyath says she also felt overwhelmed. "I had an infant with a traumatic brain injury and didn't know what the outcome would be," she says. "I wondered if she would ever walk or talk. I also had a two-and-a-half-year-old and a husband in jail. I felt so alone. My family was wonderful, but they didn't understand all of what I was going through. I didn't know who to turn to."
Six months after Kyra's injury, Kuyath started a Facebook group to connect with other families affected by shaken baby syndrome. That group eventually became a nonprofit organization, One Shake Is All It Takes, dedicated to eliminating shaken baby syndrome through awareness and education.
Through her work with the foundation, Kuyath meets with families affected by shaken baby syndrome to share her story. Part of that story is the impact it has on families. "Child abuse injures a child, but it also hurts entire families," she says. "My husband and I got a divorce. He was sentenced to 57 months in jail and eventually had his parental rights terminated. There are financial challenges."
Kuyath also speaks to groups, including the postnatal classes at Mayo Clinic Health System in Red Wing, about how to prevent shaken baby syndrome.
"People need to have a crying plan," she says. "That plan should include a list of people to call for help if you're feeling overwhelmed."
Today, after years of physical and occupational therapy, Kyra is doing well. She still takes anti-seizure medication, and is monitored by a neurologist at Mayo Clinic, but is developing on track. Kuyath credits the care teams in Red Wing and Rochester for her daughter's recovery.
"Kyra's care has been amazing," she says. "Everyone has been incredibly kind. And the people who took care of her right after her injury acted so quickly. If they hadn't, things could have been so much worse."