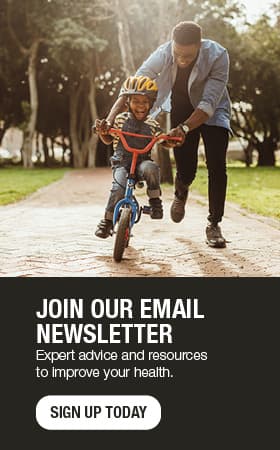 On the hunt to end pain, Bill Miller finds relief through surgery
In September 2019, Bill Miller drove 10 hours for three days of duck hunting and shot his limit each day. It would have been a happy ending to any hunting trip. But it was especially so for this trip. It was his first since having three surgeries in under a year — one less than a month before the hunt.
"My son took a picture of me on the trip and showed it to Dr. Busse," Bill says. "He was just as happy as can be to see it."
That's Eric Busse, M.D., one of Bill's surgeons. Bill's path to becoming Dr. Busse's patient begins back in his high school days.
"I've had problems with my back since I played football," he says.
Eventually, the pain even disrupted his sleep. That's when he and his wife, Barbara, met with a physician.
"The doc said I had spinal stenosis," Bill says.
The condition causes a narrowing of the spaces within the spine, which can put pressure on nerves and cause pain.
"The doctor said I would need a two-day surgery," Bill says.
Bill, who is 82, wasn't sure that he was up for that particular cure. He went to the Pain Medicine Department at Mayo Clinic Health System in Mankato, Minnesota, for another opinion.
"The doctor told me there were a couple of new surgeons coming who had trained at Mayo Clinic and that I should schedule an appointment with one of them," he says.
He did and soon met with Meghan Murphy, M.D., a neurosurgeon who sees patients in New Prague and Mankato.
Dr. Murphy recommended that Bill have spinal fusion to relieve the pressure on his nerves.
"Dr. Murphy thought it would be a much shorter surgery, and my wife and I felt good about that," Bill says.
He scheduled the procedure, and in November 2018, Dr. Murphy fused four of Bill's vertebrae together.
"I came out of it good," he says.
But after he began rehabilitation to strengthen his back after surgery, Bill developed a new problem: His hips began to hurt.
"When they screwed the vertebrae together it changed the alignment of my hips and led to bone grinding into bone," he says.
Cortisone shots did nothing to alleviate the pain. So Bill met with Dr. Busse, an orthopedic surgeon, to discuss hip replacement surgery.
"I decided to have both hips replaced," he says.
There was just one roadblock: Bill had developed blood clots after his first surgery, and was on blood thinners to prevent the clots from traveling to other parts of his body, such as his heart or brain, and causing a heart attack or stroke. He would need to postpone surgery until he was off blood thinners or have an IVC filter placed to catch any blood clots that might break loose. Bill chose to have a filter placed. Dr. Busse arranged for Andrew Chow, M.D., an interventional radiologist, to perform the procedure.
"It's easy for us to collaborate between departments to customize care for our patients," Dr. Busse says.
After the filter was placed, Bill scheduled two separate surgeries to replace his hips. The first was scheduled for the end of April 2019.
But the night before that procedure was supposed to take place, Bill's wife had a heart attack and passed away. Surgery was postponed, eventually taking place at the end of May. The second surgery followed in August 2019.
"I did well after both surgeries," Bill says.
So well that he was able to leave the hospital sooner than expected — a credit to his determination, Dr. Murphy says.
"Mr. Miller worked hard in therapy and did his part in recovery," she says. "Patients have the best outcomes when they're invested in their own health and partner with their health care teams."
Bill says he is happy he made that investment because he has been able to return to the activities and lifestyle he enjoys. And he's grateful to the team that helped him get back on his feet, pain free.
"The surgeons were outstanding," he says.
Drs. Busse and Murphy say it's gratifying to see Bill doing so well.
"The best part of the practice of orthopedics is getting people like Bill moving again and able to move on with their lives," Dr. Busse says.
Dr. Murphy agrees. "It's a privilege and a joy to see people thrive after surgery," she says. "Knowing that we have helped them regain some of their life is nothing short of wonderful."
And thrive he has.
"I've been able to get back to hunting, mowing the grass and going to work every day for my son," says Bill, whose son owns a butcher shop. "I wouldn't like to spend my time just sitting in a chair."
Bill's approach to life is inspiring, says Dr. Murphy. "I hope I'm that fit and mobile at his age."