We are experiencing high call volumes:
Use your account on the Mayo Clinic app or patient portal to check symptoms, get care recommendations and make an appointment.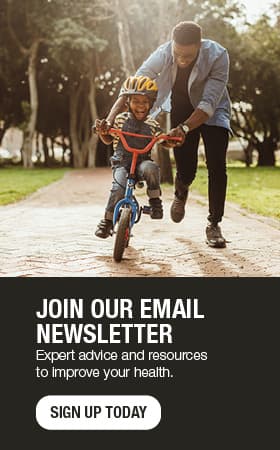 A special connection with the firstborn of the new year
By Deb Dietrich
I sometimes like to kid that I was born into my role in Public Affairs. You see, some 40+ years ago, luck happened that I entered this world on January 3 and was the first New Year's baby of 1966 (you can do the math). I was born at Barron Community Memorial Hospital, now Mayo Clinic Health System – Northland, where I've had the pleasure (and challenges) of working to promote the medical center for the past 21 years.
Just a few days after being born, my picture, together with my parents, made the front page of the Barron News-Shield. There I was, representing the hospital (well, as much as a newborn can). Now, each year I look forward to meeting the firstborn and am excited when the baby arrives on my birthday so we can share the title of "New Year's baby" born on the same date.
The first baby of 2013 is a beautiful girl named Layla, born just minutes into January 3. Because of what I do, I got to meet her, tell this story to her parents, take her photo and submit it to the News-Shield, so her photo can make the front page.
Who knows? Perhaps one day, years from now, this little New Year's baby will be sitting in my office...
Left: Deb Dietrich, Public Affairs, Mayo Clinic Health System – Northland was the New Year's baby of 1966, and is pictured here with her parents Wallace and Doris Johnson. For the past 21 years, she has covered New Year's baby stories for the hospital.
Right: Layla Rose Gerstner was born at 12:32 a.m. Jan. 3, 2013. Layla weighed in at 8 pounds, 10 ounces and was 20.5 inches long. Agatha Wieckowicz and Joseph Gerstner of Cameron are the proud parents. They also have a son, Walter, age 2.
---
For the safety of our patients, staff and visitors, Mayo Clinic has strict masking policies in place. Anyone shown without a mask was either recorded prior to COVID-19 or recorded in a non-patient care area where social distancing and other safety protocols were followed.