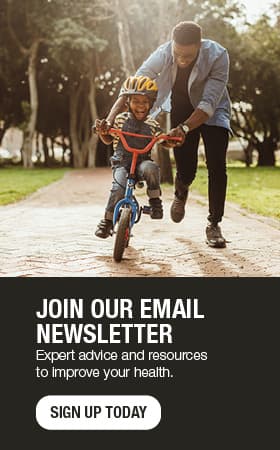 By Ruth Ley
I started having arthritis pain in my knees in 2004. I noticed the arthritis pain in my hip in 2008. In 2011, I did some physical therapy for my knee and hip pain. In 2012, I had two steroid injections, seven months apart, in my hip for the pain.
The physical therapy and steroid injections relieved my pain for a short time but not long term. My left hip was full of arthritis and it was bone on bone. The only real solution to get rid of the hip pain and lead a normal life was to have my left hip replaced.
A couple of my friends had their hips replaced several years ago by Dr. Mark Herr at Mayo Clinic Health System in Eau Claire. They recommended that when I needed surgery to consider going to him.
I had heard about the anterior approach to hip replacement surgery and was told it was "less invasive" surgery with faster recovery than the more common posterior approach. Because I wanted to have Dr. Herr for my surgeon, I was especially excited to hear that he did the anterior approach to hip replacement, and I was hopeful that I would be able to have that surgery. I was, and I had my hip replaced in August 2013.
When I woke up from surgery, I didn't feel pain in my leg. And the incision discomfort was nothing compared to the pain I had been living with for many months prior to surgery. I also was able to get up with minimal help and do most things for myself.
I went home from the hospital on the third day following surgery, and within a week, I felt good enough to go out with friends for coffee. Ten days after surgery, I drove the car alone for the first time. My family and friends were amazed that I was able to do so many of my usual activities so soon after surgery and that I could move at a fairly fast pace when I walked with the aid of my cane for support. Everyone wanted to give me a ride or help me with something, but I could do it for myself with no trouble.
I tried to be sensible and not overdo, but that was sometimes hard when I felt so good. My husband likes to cook, so meals were taken care of. Otherwise, his caretaking duties were minimal because I could go up and down stairs and do most things for myself.
When I left the hospital, I was able to put full weight on my leg right away. I used a walker around the house for the first week at home. After that, I started using my cane again. Because I had used a cane for about six months before surgery, I felt very comfortable using it again while getting my strength back.
I just saw Dr. Herr for my six-week check-up and was told I don't have to return to see him for a year. Everything looks good, and healing is going well. Dr. Herr said I should be feeling better and stronger each week. I have already noticed that in these first six weeks.
I feel stronger and have more energy now than I've had in a long time. I know now that the pain I lived with before surgery took a lot of my energy. I'm now able to walk some without my cane, but I still use it when I go out and when I'm tired or planning to walk a longer distance.
I feel the muscles in my leg get stronger every day, but I know it will take a little more time for them to get strong again after all the pain and abuse I put them through before my surgery. I know that before too long, I will be able to get rid of the cane for good. In the meantime, I'm free of pain and have already resumed my life.
I'm looking forward to next month when we travel to see our grandkids, and I know I will be able to do more things with them and not be in pain. It's a great feeling!
View a video of Dr. Mark Herr talking about the procedure:
---
For the safety of our patients, staff and visitors, Mayo Clinic has strict masking policies in place. Anyone shown without a mask was either recorded prior to COVID-19 or recorded in a non-patient care area where social distancing and other safety protocols were followed.
Topics in this Post