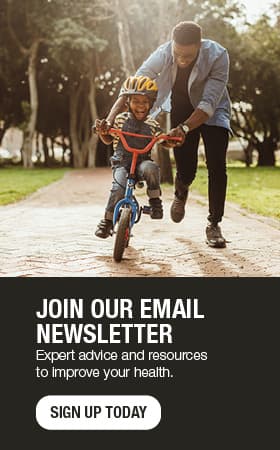 Mold reshapes baby Adelyn's 'different' ear
Parents usually gush over a newborn's cute little fingers, toes, nose and ears as they get to know their baby. Lindsey and Michael were no exception when they welcomed their daughter, Adelyn, in March.
The couple, along with big sister, McKenzie, were thrilled with her arrival and admired her personality and features.
"She is a very laid back, sweet baby, and she looks like mom," says Lindsey proudly.
While in the hospital, the St. Michael, Minnesota, couple noticed that Adelyn's right ear looked different than her left.
"The top cartilage of her ear was cupped," says Lindsey. "It was almost completely folded over."
Concerned, Lindsey asked her local health care team about Adelyn's ear.
"They told me that it might bounce back, but I was worried," she recalls. "I started Googling options and found the EarWell website and Dr. Pearson. I set up an appointment right away."
The appointment was with Susan Pearson, M.D., a pediatric otolaryngologist and head and neck surgeon, also called an ear, nose and throat physician, at Mayo Clinic Health System in Mankato, Minnesota. She has special training in the surgical and nonsurgical correction of ear deformities. One nonsurgical option, called EarWell, uses a plastic mold to reshape the ear within the first weeks of life.
"While about 25% of babies will have an ear deformity, 70% will not improve over time or even worsen," says Dr. Pearson. "The good news is that 90% to 95% of these cases will improve with ear molding."
During treatment, a plastic mold is placed over the newborn's ear and held in place with double-sided tape. The procedure is pain-free, and newborns can hear normally through the mold. It is worn continually for two to six weeks, depending on the severity of the deformity and how soon in life it was placed.
Dr. Pearson explains that time is of the essence with ear molding treatment.
"The window for excellent results is quite narrow. During the first month of life, a baby's ear cartilage is flexible due to the maternal estrogen levels in the baby," she says. "The estrogen levels decrease after this time, and the ear cartilage begins to stiffen. Early placement of the mold reshapes the ear while it is malleable."
Adelyn was 1½ weeks old during her first visit with Dr. Pearson, who confirmed the cupped ear deformity and answered the couple's questions.
"Dr. Pearson said she was a good candidate for ear molding. She was very informative and took the time to explain everything," says Lindsey.
The couple decided to try the treatment for Adelyn.
"Her parents were very proactive and wonderful to work with," says Dr. Pearson. "They had done their research prior to coming to the clinic and were very educated about the molds."
A mold was placed on Adelyn's right ear while she was awake in the clinic that day. After that, the family made the nearly three-hour drive to Mankato for weekly follow-up appointments.
"We couldn't really tell at first if it was working. The way the mold covered her ear, it was hard to see," says Lindsey. "But after the first appointment, her ear seemed to stand up more."
Lindsey and Michael say that Adelyn wasn't bothered by the mold, and its presence didn't change her feeding or sleeping. Bathing was the only thing they needed to approach differently during the weeks of her treatment.
"We had to work together to keep the mold on right," says Lindsey. "We needed four hands during bath time, but there were no other issues."
After three weeks, Dr. Pearson removed the mold in the clinic. The cartilage on her right ear was no longer cupped and is now symmetrical with her left ear. Adelyn's ear should need no further treatment.
"It was painless, and it works. Her ear looks great," says Michael. "There is no difference in looks between her ears now."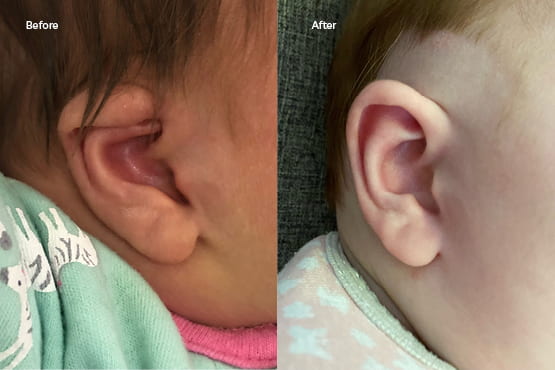 Dr. Pearson explains that with this treatment, Adelyn avoided a future invasive ear surgery, called an otoplasty.
"It is an extensive, invasive surgery to correct an ear deformity. Often, the results are not as natural as they are with molding," she says. "The surgery is done when a child is around 5 to 6 years of age and takes between 60 and 90 minutes per ear."
Avoiding this surgery was a relief for Lindsey and Michael.
"I thought that surgery might have been her only option and that we would be referred to Ear, Nose and Throat later," says Lindsey. "It's important for parents to be informed early on and don't wait for their children's ears to bounce back."
Dr. Pearson agrees and stresses that Adelyn's good results were possible because of early treatment.
"With this treatment, it's important to get into the clinic as soon as possible," she says. "The sooner we place the molds, the greater the outcome."
Editor's note: Last names were withheld in this story at the family's request.