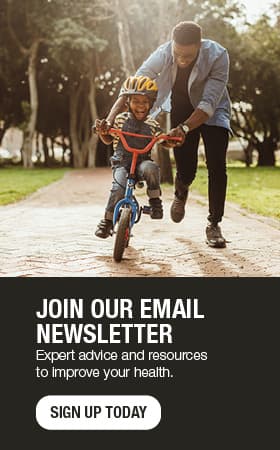 Miles ahead after complex spine surgery
Topics in this Post
Paul Halbur just wanted to enjoy a walk with his wife. But chronic pain across his lower back and down his legs, along with weakness, made this difficult.
"I only could walk two blocks from the house and then back," says the 58-year-old La Crosse, Wisconsin, resident and former Army ranger. "I would have to sit down and rest after just four short blocks and wait for the pain to subside."
While living in Michigan in 2015, Paul had a spinal fusion surgery to help his chronic back pain. During this surgical procedure, a surgeon placed bone between two of Paul's spinal vertebrae to cause these vertebrae to grow together, or fuse, over time. However, just two years later, Paul suffered an injury that aggravated his back and caused debilitating, chronic back pain.
"It was 24/7 with shooting nerve pain down both legs, across my hips and lower back," says Paul, an automobile dealership general manager. "For three years, I did not sleep through a single night because of pain. I was exhausted. I was miserable."
In addition to pain, he was experiencing weakness and numbness in his legs that affected him at work.
"I prefer to be on my feet at work, but it got to the point that I could not stand and talk with a team member or guest for more than two or three minutes due to pain or losing feeling in my legs," says Paul.
That's when he connected with Parker Kelley, physician assistant at Mayo Clinic Health System – Franciscan Healthcare in La Crosse. In Neurosurgery, a team of surgeons, physician assistants and nurses work together to care for patients and this team-based model is what sets Mayo apart from other organizations.
Then Parker and neurosurgeon Navid Khezri, M.D., reviewed Paul's X-rays and MRI scans, which showed a unique situation in his back.
"Mr. Halbur had a rapid growth of bone beyond the desired extent at the previous surgical site. The newly formed bone was now encroaching on the nerves and impinging them, resulting in significant pain," says Dr. Khezri. "This is not common. Additionally, he had developed significant degenerative changes in the level above his prior fusion, resulting in more nerve impingement and pain. We consider surgery the last resort for patients with back pain, but it was the appropriate treatment for Mr. Halbur."
One of Paul's passions is professional communication coaching, and he conducts consumer service training for professionals during his free time. While discussing surgical options with Dr. Khezri, he was impressed with the surgeon's communication style and approach with patients.
"I appreciated his candor and explaining this option in a proper way," says Paul. "Dr. Khezri's demeanor toward patients is fantastic. Right then, I knew he was the right surgeon for me."
On May 27, Dr. Khezri performed an eight-hour surgery on Paul's spine to free the encased nerves and stabilize the deteriorating discs.
"The surgery was long due to the meticulous nature of the decompression needed to free the trapped nerves," says Dr. Khezri. "In addition, we revised and extended his prior fusion to include the degenerated level above."
Although his surgery was long, Paul was walking with assistance the same day, and he was able to go home the next day. His surgery was performed during the COVID-19 pandemic, so visitors were restricted and staff followed personal protective equipment recommendations, including face masks, during his hospital stay.
"The bedside manner of Dr. Khezri was terrific, and the whole team was absolutely wonderful," says Paul. "I couldn't see their smiles due to face masks, but you can read emotions in the eyes. They were highly professional and caring."
In addition, he jokes that the one day he was apart from his wife of 35 years "was probably good for her."
Two weeks after surgery, Paul was walking farther and feeling great.
"He had a complete resolution of previous symptoms," says Dr. Khezri. "Mr. Halbur has a busy lifestyle and is on his feet all the time at work. He was able to gradually return to work."
Paul is enthusiastic about his surgery's success.
"I can now stand and walk like before. I can walk up to 4 miles a day with my wife," says Paul. "My team members at work are amazed at how quickly the surgery made a difference."
Paul is looking forward to getting back to activities he previously could not do, including kayaking, hiking and playing golf.
"After I retire, I'm thinking of moving back to my home state of Vermont. I will need to cut and split firewood there, and now I will be able to do that."
Topics in this Post