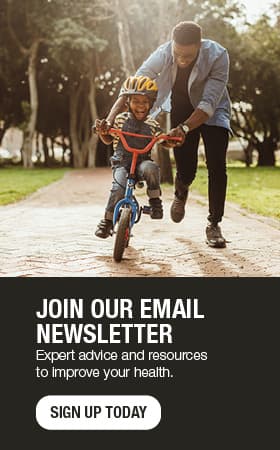 Hospice helps a son grant his mother's dying wish
Not every wish comes true. You could even say that seeing a wish come to fruition is rare. But what about a final plea when your breaths are truly numbered? Still, many never see those answered. Mariama Kamara is one of the few. It took work, but her final wish was ultimately granted with the help of her son, Abu, Mayo Clinic Health System Hospice care, and her resilience and strong will.
Born in 1914 in the Republic of Sierra Leone, Africa, Mariama Kamara's mother passed away during childbirth and her father raised her. She started a family later in life, giving birth to eleven children of her own. Three passed away during childbirth, and only four children remain alive today.
One of those children, Abu, eventually moved to the United States. During a trip to Sierra Leone for his father's funeral in the early 1980s, Abu realized that his mother had also fallen ill. He decided to bring her back to the United States to care for her as she aged.
"I had kept my mother with me because, at her age, she did not have any other means of survival," says Abu. "I cannot begin to explain how much this enriched my family. With her sternness and playfulness, there was always a new story to be told."
Mariama's dying wish
Abu loved and respected his mother, and when she was diagnosed with pancreatic cancer in the fall of 2012, he knew it was important to fulfill her desire to return to Sierra Leone to pass away. Abu had to decide what to do while he saved the funds needed for the trip. He chose Mayo Clinic Health System Hospice.
"The Mayo team brought the hospital bed, oxygen tank and all other medical materials to our house," Abu recalls. "Amy (Noyes) and her team were the best one could ask for at this critical point. Whenever I needed anything, a phone call was more than enough. They gave us all the help and support we needed at that time."
Mariama's condition worsened, and at 98 years old, Abu knew it was time to get things in order for the trip back to Africa. He made an emergency withdrawal from his retirement fund for the trip. Unfortunately, Abu still needed money before he would be reimbursed – money he didn't have.
"The closer we got to our departure date, the more expensive (plane) tickets became," says Abu. "It was at this time that Sarah (Ward), and others at Hospice, jumped in for alternative sources of funds."
Ward, a Mayo Clinic Health System in Mankato social worker, submitted a letter to the Dream Foundation for financial assistance, which resulted in $700 for the trip.
The Hospice folks stepped in once again to care for Mariama as Abu traveled to the Twin Cities to update their passports.
While the family was finalizing details for the trip, they decided to move Mariama to her daughter's house near Minneapolis, Minn.
"This meant changing Hospice to one in the cities," says Abu. "Again, Mayo Hospice was instrumental in making this arrangement for me. By the time we got to the cities, everything was set up in my sister's house. I got there, signed papers, and everything resumed like clockwork."
---
For the safety of our patients, staff and visitors, Mayo Clinic has strict masking policies in place. Anyone shown without a mask was either recorded prior to COVID-19 or recorded in a non-patient care area where social distancing and other safety protocols were followed.
Topics in this Post