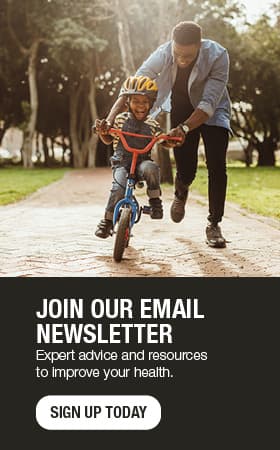 Mankato man recounts fight back from major stroke
It was a typical summer evening in July 2018. Dan Boswell went home in Mankato, Minnesota, to let the dog out, and then, in an instant, his life changed.
"My arm seemed funny, and then, boom, I hit the floor," says Dan. "I fell by the front door, and I crawled up the stairs to find my phone, and I called my wife."
Dan couldn't tell his wife what was happening to him. But she could tell immediately he needed help and called 911.
The next several hours would be a blur of emergent medical care followed by days in the Intensive Care Unit, as it was clear that Dan had just suffered a major stroke.
"When he was in the hospital, he could not talk at all," says Sarah Krenik-Hoffmann, speech-language pathologist at Mayo Clinic Health System in Mankato. "He also had complete hemiparesis on his right side, which means right-side weakness, a loss of muscle strength."
Dan, a North Mankato Parks and Recreation employee, said he knew before his stroke that he had high blood pressure. He was taking blood pressure medication, but he wasn't regularly monitoring his blood pressure. He had never felt ill before that night on July 10, and he hadn't even felt differently the day leading up to the event.
"I didn't see it coming," he says.
Treatment begins
Dan's journey back to health has been twofold, both speech and movement. He has apraxia of speech, or difficulty with motor planning of the speech muscles. He also has aphasia, which affects the ability to speak, read and write.
To understand aphasia, think of a filing cabinet. A person with normal speaking abilities has a filing cabinet full of organized words that can be located and used in an instant. Dan's files had been strewn all over the floor; he had to find them, organize them and put them back in the cabinet, which is an ongoing process.
"There's no cognitive impairment; it's in there, but you can't bring it out," Sarah says. "It's gotten much better. We started by having him look at something and telling him what it was. He's really improved from that point."
Dan began with inpatient rehabilitation at Mayo Clinic in Rochester for 25 days, where he began speech, physical, occupational and recreation therapies. After being discharged in August, his wife drove him to Rochester to continue therapy until he began treatment three days per week in the Physical Medicine & Rehabilitation Department at Mayo Clinic Health System in Mankato in October 2018.
That's when he started meeting with Sarah for speech therapy, Elisabeth Wech for physical therapy and Elizabeth Wargelin for occupational therapy.
For the past few months, Dan has been working on movements and exercises to improve movement on his right side. He's also been working in earnest on his speech.
"We've been working on learning to read, reading comprehension and spelling, and that's all getting much better," Sarah says. "We have also been working on speech production and articulation. We'll give him phrases loaded with certain sounds that he has particular difficulty with, and he'll work on them, and after a while, his mouth gets tired. But he's doing so much better."
Setting goals
All of Dan's Physical Medicine & Rehabilitation providers work together to help coordinate his care. They discuss goals with him to help chart the right course.
"I would like to go back to work," Dan says.
Sarah says that goal gives them great motivation.
"We'll keep working with Dan until he's met a plateau," she says. "With most stroke patients, we'll work with them a year or more, but Dan has been really motivated. We'll see when that year mark gets here. He's been an easy one; he's continued to make such great progress."
Dan has started going to a stroke support group. He says he would recommend that group to anyone who has experienced a stroke.
He also has another piece of advice.
"Get your blood pressure checked," he says.
Stroke facts
Stroke is the fifth-leading cause of death in the U.S., according to the Centers for Disease Control and Prevention.
When treated soon after symptoms start, the effects of stroke can be lessened or reversed.
A stroke occurs when the blood supply to part of the brain is interrupted or reduced, depriving the brain of oxygen and nutrients.
Time is everything when it comes to treatment because, within minutes, brain cells begin to die.
Symptoms include trouble speaking and understanding; paralysis and numbness of the face, arms or legs; trouble seeing in one or both eyes; headache; and trouble walking.
The acronym FAST can help you decide if immediate medical attention is needed:

Face. Ask the person to smile. Does one side of the face droop?
Arms. Ask the person to raise both arms. Does one arm drift downward? Or is one arm unable to rise up?
Speech. Ask the person to repeat a simple phrase. Is his or her speech slurred or strange?
Time. If you observe any of these signs, call 911 immediately.