We are experiencing high call volumes:
Use your account on the Mayo Clinic app or patient portal to check symptoms, get care recommendations and make an appointment.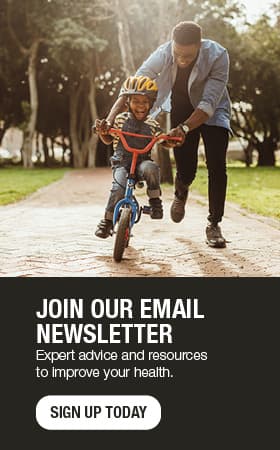 Living with chest pain: Angina eased by ECP and one special nurse
By Sharon Durbin
Editor's note: Cardiology technician Mary Jo Lunde recently earned a Mayo Clinic Health System GEM award for "Going the Extra Mile." Lunde was nominated by patient Sharon Durbin. Here is an edited version of Durbin's nomination of Lunde.
Stretching into a pair of navy blue leggings, I perch myself upon a padded exam table. My nurse places electrodes on my chest and wraps pressure cuffs around my calves, thighs and buttocks. The cuffs attach to air hoses, which connect to valves that inflate and deflate the cuffs based upon my heart rate.
I hear the humming and thumping, and feel tightness and pressure that increases and decreases — just another day of ECP, external counterpulsation.
ECP is a nonsurgical therapy for angina, or chronic chest pain. The hour-long process occurs every weekday for a series of 35 to 50 appointments. That's a long time — time to get to know Mary Jo Lunde, a wonderful Mayo Clinic Health System Cardiac Center nurse who helps me through this.
ECP has improved my quality of life and gives me hope. ECP provides relief from my painful angina. ECP helps my heart function by increasing blood flow to the heart muscle and decreasing the heart's workload. ECP enhances the balance between the amount of oxygen my heart needs and the amount it receives.
But ECP isn't easy. It takes commitment and a willingness to complete the process. I cannot imagine doing ECP treatments without Mary Jo. She is the "heartbeat" of the Cardiac Center. She is "the Mayo Effect," which describes the way employees bring Mayo Clinic's values to life by putting the needs of the patient first.
Mary Jo makes me feel comfortable when I feel uncomfortable. I am not sure what it is — her conversation and the distraction it creates? Or the photographs and books she brings in especially for me to see? Or is it the atmosphere she fashions — her words, the sparkle in her eyes and the energy she displays?
She means so much to me during these treatments. She gives me the solace to carry on and move forward at a time when I feel vulnerable. She teaches me that life should reflect what you most value. She teaches me about tearing down and building anew in her stories and reflections. She teaches me about the human experience and life's story.
I still feel the pure joy of eating the chocolate that Mary Jo gives me after each ECP session. She gives me one piece every day! Then she tells me not to forget to read the quote inside the wrapper; the words are always uplifting. No one can imagine the contrast of pain and chocolate! Mary Jo knows chocolate is a positive reward and keeps chocolate in a drawer in the ECP room. Surely she studied B.F. Skinner and knows about his behavior modification theory. Perhaps it is pure wisdom on Mary Jo's part because dark chocolate is rich in flavonoids, which reduce the risk of cardiovascular disease.
I did not expect Mary Jo to remember my birthday, let alone gather others from the Cardiac Center to sing to me! I did not expect celebration and decorations and a gift. Mary Jo gives so much of herself; it reaches the depths of my heart. There are no words.
ALL those little things really mattered. I am filled with genuine gratitude for a blessing like Mary Jo.
---
For the safety of our patients, staff and visitors, Mayo Clinic has strict masking policies in place. Anyone shown without a mask was either recorded prior to COVID-19 or recorded in a non-patient care area where social distancing and other safety protocols were followed.