We are experiencing high call volumes:
Use your account on the Mayo Clinic app or patient portal to check symptoms, get care recommendations and make an appointment.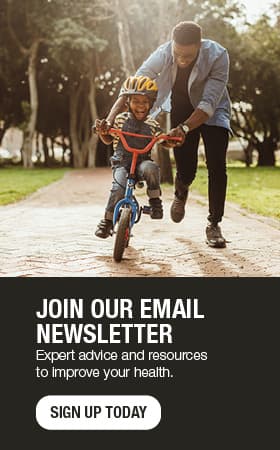 Ken McMiller: Hospice helps family find peace at the end of life
Although Ken and Carol Ann McMiller's 55 years together took them all over the country, it started with a state fair love affair, homegrown in the Midwest.
"I was serving in the Navy and stationed short duty in St. Paul, Minn., in 1952," Ken says. "I met Carol Ann at the state fair, and we got married in July of '53."
Ken served in the Navy for years after they married, and both enjoyed the military life, moving from St. Paul to San Francisco, to Idaho, to Norfolk, W.Va., then Long Beach, Calif.
"Carol Ann always said the Navy years were the best years of our married life," says Ken, who retired from the service to Eau Claire. "We moved around so much, but we loved meeting people, especially other military families that were in the same boat."
That kind of support was important to the McMillers in their early married life and again when Carol Ann faced ill health from lupus and then lupocitic leukemia. At the end of her life, she and her family found help through Mayo Clinic Health System – Home Health & Hospice.
"Coping with a terminal illness is overwhelming and something no one should have to endure alone," says Kelly Sikkink, assistant administrator for Mayo Clinic Health System – Home Health & Hospice in northwest Wisconsin. "Compassionate and comprehensive health care and support services are so important to families like the McMillers throughout northwest Wisconsin."
A diagnosis and long-term management
When Ken retired from the service, the McMillers settled down in Eau Claire, which was close to Ken's childhood home of Stanley, Wis. There, they raised two boys, Steven and Kenneth, and enjoyed playing golf and cards with friends. But Carol Ann's nagging health concerns did sometimes put a damper on things.
In 1970 Carol Ann was diagnosed with lupus, an inflammatory disease that occurs when your body's immune system attacks your own tissues and organs.
"We had to constantly monitor to make sure her lupus was under control, and then 10 years later, she was diagnosed with lupocitic leukemia," Ken says. "Medication kept that in check for a long time too."
But then in March 2009, Ken noticed Carol Ann was slurring her speech. A CT scan showed bleeding on the brain, so Carol Ann was given blood thinners and had two infusions of platelets, which helped to boost her blood levels, but only temporarily.
"During the second infusion, the doctor said that he could keep giving her new platelets, but she'd have to come in regularly," says Ken. "But she had already decided she'd had it with needles."
Hospice and hope for peace
Ken says he wouldn't have known about hospice if the staff at Mayo Clinic Health System in Eau Claire hadn't told him about the service.
"Hospice was a lifesaver for us," he says. "They provided equipment, and the nurses came out whenever we needed them."
Ken says hospice staff provided more than just medical and comfort care for Carol Ann, who died July 2009.
"She really enjoyed the chaplain," he says. "He would play the guitar, Carol Ann would play electronic organ, and they'd have a jam session for about 30 minutes."
In the midst of caring for his wife, Ken felt cared for too.
"They were there for me every step of the way," he says.
---
For the safety of our patients, staff and visitors, Mayo Clinic has strict masking policies in place. Anyone shown without a mask was either recorded prior to COVID-19 or recorded in a non-patient care area where social distancing and other safety protocols were followed.