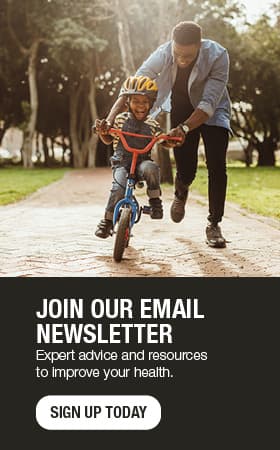 Jamie Mueller has been through more than most, including a sudden cardiac arrest, implantable defibrillator and minimally invasive valve repair. But thanks to expert medical care, technology advances and being in the "right place at the right time," Jamie's outlook is bright.
Monitoring a valve defect
At age 3, Jamie was diagnosed with mitral valve prolapse, a condition occurring when the valve between the heart's left atrium and left ventricle doesn't close correctly. While immediate treatment wasn't required, doctors monitored Jamie's heart and warned her parents that she'd need her valve replaced one day, likely in her teens.
Jamie, a 43-year-old resident of Chippewa Falls, Wis., recalls living a normal childhood with few restrictions. When she entered her teen years, doctors told her the valve wasn't degenerating as quickly as they'd anticipated. "They said 'It probably won't be until your early 20s,' and then I got in my 20s and they said 'not until your 40s,'" Jamie says. "And they were right."
Early cardiac arrest
In 1996, at age 26, Jamie suffered sudden cardiac arrest — an unexpected loss of heart function, breathing and consciousness — while eight months pregnant with her second son.
Jamie collapsed while working in medical records at then-Luther Hospital, now Mayo Clinic Health System in Eau Claire. Stephen Rogers, M.D., an internal medicine physician, happened to be nearby and performed CPR on Jamie. Her second son, Kyle, was born that day by emergency cesarean delivery.
Tears fill Jamie's eyes when she looks back to that time, recalling her husband's fear that he and their toddler son, Derek, could lose wife and mother, child and brother. She can't forget the family's fear that baby Kyle would be brain damaged from lack of oxygen from Jamie's cardiac arrest. Kyle is now a healthy teen.
It's comforting to look to all the things that fell into place that day. "I was at the right place at the right time," Jamie says.
Heart rhythm care
After her cardiac arrest, Jamie was transferred to a hospital in Minneapolis, where she was diagnosed with ventricular tachycardia, a type of fast heart rhythm, and had an automatic implantable cardioverter defibrillator (ICD)/pacemaker placed in her chest.
At the time, heart rhythm devices were not implanted locally. But today, Mayo Clinic Health System sites in Eau Claire and La Crosse, as well as Mankato, Minn., regularly implant ICDs and pacemakers.
Two times the device has shocked her to restore a normal heart rhythm. Jamie marvels at the changes made in this area of medicine, too. "They have improved my life so much," Jamie says, sharing how she used to travel to Rochester, Minn., to replace her ICD batteries, which now can be changed in Eau Claire, just 15 minutes from her home.
The device itself has improved greatly, as well. "The first defibrillator I had was huge. They had to put it under my chest muscle up in my left shoulder area, and it was the size of a deck of cards. I'm on my fourth battery now, and (the defibrillator) has shrunk to about a quarter of the size originally. It's much thinner, and I don't even know that it's there anymore."
Jamie used to travel to the clinic every three months to have the data read on her device. Now, she goes in once every six months and has a wireless machine at home that remotely sends in the necessary information to her cardiologist.
Valve failure
Jamie first felt symptoms signaling valve failure in fall 2011 while visiting her oldest son at college in Iowa. The family decided to go on a seven-mile bike ride through the scenic region. "We'd gone maybe one-quarter of a mile, and I thought 'Geez, I'm tired already,'" Jamie recollects.
Later, the group stopped to admire a view but needed to climb about 30 stairs to get their glimpse. "I got about halfway up, and I had to stop and rest. It was kind of embarrassing because I wasn't the oldest person on this bike ride," she says.
Jamie had annual echocardiograms until this point and underwent her next test shortly after her return from Iowa. Echocardiograms use sound waves to accurately and painlessly diagnose problems with the function, blood supply and values of the heart. Her results showed worsening mitral valve regurgitation, which happens when the valve doesn't close tightly and blood flows backward in the heart. Not wanting Jamie to develop congestive heart failure, Daniel Kincaid, M.D., Mayo Clinic Health System cardiologist, advised his patient that "it's probably time for surgery", she recalls.
Minimally invasive surgery
Instead of open heart surgery, Robert Wiechmann, M.D., Mayo Clinic Health System cardiovascular surgeon, repaired the valve between Jamie's ribs, avoiding splitting her sternum — resulting in less pain, a decreased risk of infection and the ability to return to normal activity sooner.
"When patients come to us for heart surgery, one of their biggest fears is having their sternum divided," says Dr. Wiechmann. "People really appreciate not having to go through that."
Jamie had considered surgery once before. "When I was 34, they noticed a change on my echo. I actually considered doing the valve then, but there was no talk of minimally invasive at that time," she says.
The heart surgery team at Mayo Clinic Health System in Eau Claire has been performing minimally invasive aortic and mitral valve replacement, as well as mitral valve repair, since late 2007.
The first days after surgery, patients who have had the minimally invasive procedure share the same experiences as traditional heart surgery patients, says Dr. Wiechmann. The dramatic difference comes three or four weeks later.
"They're moving better, they have less discomfort and they're getting back to normal activities sooner than patients who have had their sternums divided," Dr. Wiechmann says.
What's more, Dr. Wiechmann was able to repair, rather than replace, her mitral valve — which brought additional advantages. At the top of the list for Jamie was the elimination of the need for long-term blood thinner medication. For that, and so much more, Jamie is grateful.
Jamie had surgery in December 2011 and was ready to play volleyball by March 2012 and canoe and kayak with her active family that summer.
"I think we are very privileged to have this type of surgery and Dr. Wiechmann in the area. The minimally invasive surgery takes a lot of skill," Jamie says. Mayo Clinic Health System in Eau Claire is one of only a handful of locations in the country where minimally invasive valve repair surgery is being regularly performed.
Ready for what's next
Knowing her valve condition is degenerative, Jamie realizes her repaired valve likely one day will require replacement, but she's hopeful that it can be done minimally invasive, as well.
In the meantime, Jamie describes her health as "great" today and feels well enough for a family trip this summer to the serene, but remote, Boundary Waters in northern Minnesota, a place where she and her husband never felt comfortable visiting before in fears that something happen with her health while there.
Jamie quickly credits her Mayo Clinic Health System medical team for their pivotal part in her journey.
"I would definitely recommend them. It's the best care I've had anywhere — and I've been to a lot of hospitals," she says.