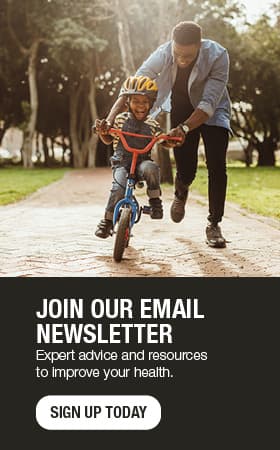 Hospice patient gets a special visit from Chi Hi football players
Topics in this Post
Phil Pitsch is an avid a sports fan as they come. A former three-sport athlete and standout running back for the Chippewa Falls High School Cardinals, Pitsch, 81, follows Chi-Hi football games to this day.
Even after he graduated from college, Pitsch continued his athleticism running six miles a day and regularly playing racquetball.
Pitsch was diagnosed with early onset Parkinson's disease in his 40s. Because of the active lifestyle he had always led, however, the chronic nervous system disorder didn't progress until a running-related knee injury sidelined his activity.
As his medical care changed from curative to comfort over the past year, Pitsch transitioned to hospice care in September 2015. He says his medical team at Mayo Clinic Health System has been an advocate and source of support ever since.
"We just feel that the hospice staff has been there for our needs at this time of life," says Pitsch, a retired certified public accountant, communicating with the assistance of his wife, Shari. "They're very caring, considerate and respectful for the care of the family and the loved one that's ill. You're not alone, and there's an abundance of help available if you just reach out for it."
Shari says she knew it was time to transition to hospice care when Phil's health declined and his needs increased to the point that she could no longer care for him on her own.
"I had to have someone stay with Phil when I need to get groceries or pick up meds," she recalls. "I couldn't leave him alone at all, and life in general was moving in on us. To go anyplace was just about impossible."
However, they both emphasize accepting hospice care services is a far cry from giving up. On the contrary, special moments continue to bless the couple.
This fall, for example, Phil received a visit from eight members of the Chi-Hi football team and head coach Chuck Raykovich — a visit his primary hospice social worker, Billie Jo Anderson, helped arrange.
"I met Phil last September during the football season and have been aware of his interest in football, including the Chi Hi team," says Anderson, whose son plays on the team. "I would go to the games, and Phil would listen on the radio, and sometimes we discussed them. He still identifies with football and playing in high school."
During the visit, the players introduced themselves, presented Phil with an alumni T-shirt and asked him about his playing days, including about some of the big games he was in and what his favorite play was. To say the visit meant a lot to Phil is an understatement, Shari says.
"Oh, we're still talking about it, and friends are still talking to us about it," she says. "Those young men were so respectful and so considerate."
Moments like these make the Pitsches grateful for each and every day, and thankful to have a hospice team as thoughtful as theirs.
"Phil's care is very important, and our needs and wants are always considered," Shari says. "It's not an easy time of life, but the hospice team at Mayo Clinic Health System has made this moment in our lives so much easier. They are here to make our moments more rewarding and peaceful."
Topics in this Post