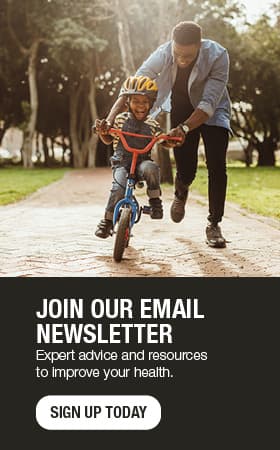 Hip, hip hooray: Dual hip replacement keeps Mike Omtvedt on the move
Israel, with its rocky, hilly terrain, might seem like an odd place to break in a new set of hips. But that's just what Mike Omtvedt did earlier this year. Mike — known as "Pastor Mike" to his parishioners at Hosanna Lutheran Church in Mankato, Minnesota — co-led a group of 80 people to the Holy Land just two months after having both of his hips replaced. It was the 51-year-old's second trip in the past two years.
"Both trips were a blessing, but the second from a hip perspective was much more enjoyable," Mike says. That's because he was pain-free for the first time in years, thanks to the two surgeries performed just weeks apart at Mayo Clinic Health System in Mankato.
OH, MY ACHING...BACK?
Mike's journey to surgery began in 2015 when he started experiencing what he thought was back pain. But after attending a men's health forum, he began to suspect the pain might be in his hips instead.
"One of the speakers went through symptoms that matched my symptoms, and he'd had hip replacement surgery," Mike says. "I started to think maybe this wasn't a back issue."
Mike scheduled an appointment with an orthopedic specialist at Mayo Clinic Health System, where X-rays revealed severe osteoarthritis in both of his hips. The condition develops when the cartilage that cushions the bones of the joints deteriorates, allowing the bones to rub against each other. The pain that results often can be managed with medication, physical and occupational therapy or exercise. But, sometimes, those treatments are ineffective, and joint replacement surgery is the best treatment option.
That was the case for Mike. But because of his relatively young age, he was advised to hold off on surgery until his symptoms worsened. Artificial joints can wear out over time, requiring additional replacement surgeries. "The doctor told me, 'As young as you are, it might be wise to push surgery out,'" Mike says.
NEW ANTERIOR APPROACH
While he waited, Mike stayed busy. And, active. He took his first trip to Israel and guided several camping trips into the Boundary Waters Canoe Area. Meanwhile, his symptoms worsened.
"It was getting harder and harder to do everyday life things," Mike says. "It was getting tough to bend over and pick things up. It got so bad, I couldn't even put on my own socks. It was humbling."
Mike and his wife, Rhonda, had been researching options for hip replacement, and had decided on the anterior (front) approach, which allows surgeons to reach the hip joint without cutting through muscle. A specialized operating table and equipment are used for the procedure. Patients having anterior hip replacement recover more quickly than they would from the side or back approach, both of which require cutting through muscle.
Mike initially planned to have surgery at Mayo Clinic – Rochester because the anterior approach was not available locally. But then he learned that two surgeons — Eric Busse, M.D., and Jacob Ziegler, M.D. — would be joining the staff and offering the procedure at Mayo Clinic Health System in fall 2017. And that's just the start of the clinic's growth in orthopedics, says Dr. Busse.
---
"You really have to trust your surgeon, and I could tell mine genuinely cares about people." —Mike Omtvedt
---
"We plan to have 10 surgeons on staff in Mankato by fall 2019," he says. "This will allow us to offer even more procedures right here in Mankato."
Mike became one of Dr. Busse's first local patients.
"Pastor Mike was ready for his hip replacements," Dr. Busse says. "He did his homework and extensively researched all approaches. Choosing the anterior approach helped him get back to the active lifestyle he was used to living."
WORTH THE WAIT
Mike's first surgery took place on Sept. 25. "The team did a great job," Mike says. "I had surgery Monday, went home Tuesday, went to church on Wednesday and by that weekend, I was able to preach."
Mike's recovery was even quicker after his second hip was replaced a little over a month later.
"I had surgery on a Monday, went home on Tuesday, to church on Wednesday and was back bowling on Friday," he says.
That didn't surprise Dr. Busse. "Patients do very well in the early postoperative period," he says. "Though in eight years of being around hip replacement patients, he is the first I've met that went to the bowling alley that quickly. He did wonderfully after surgery."
And that makes Dr. Busse feel pretty wonderful himself. "Helping patients feel better and get back to the activities they love is why I chose orthopedic surgery as a career path," he says.
Mike says it is a fitting choice.
"You really have to trust your surgeon, and I trusted Dr. Busse," Mike says. "I could tell he genuinely cares about people, and he loves what he does."