High-risk pregnancy has happy ending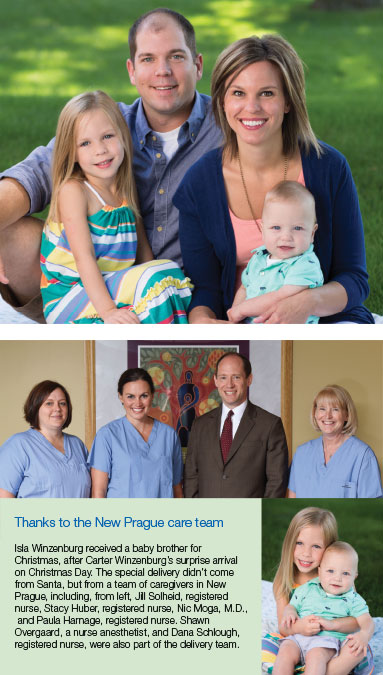 Most pregnancies and deliveries are blissfully routine. But for the small number that aren't, having fast access to high-quality care can sometimes mean the difference between a happy ending and a tragedy. This is one of those stories.
When Anna Winzenburg was pregnant with her first child, she learned that she had a uterine fibroid — a noncancerous growth that sometimes develops in the uterus during a woman's childbearing years.
"I'd never heard of such a thing," says Anna, a 30-year-old from New Prague. Though the growth was the size of a baby's head by the end of Anna's pregnancy, it didn't cause any problems, and baby Isla arrived safely in June 2011. Though Anna would eventually need to have the fibroid removed, doctors recommended she wait until she was done having children.
In the spring of 2014, Anna and her husband, Jamis, learned they were expecting their second child. Initially, the pregnancy seemed to be progressing normally. But at 22 weeks, Anna began experiencing vaginal bleeding. After being monitored at Mayo Clinic Health System in New Prague, she was taken by ambulance to Mayo Clinic in Rochester. There, Elisabeth Codsi, M.D.,
a fellow in maternal fetal medicine, diagnosed Anna with a placental abruption, a condition in which the placenta separates from the uterus wall.
While placental abruption can be life-threatening for mother and baby, Anna's case was mild. But the abruption, combined with the growing fibroid, meant she would need to be closely monitored for the rest of her pregnancy. She would continue to travel to Mayo Clinic to meet with Dr. Codsi every few weeks, while also having regular appointments with Nic Moga, M.D., her obstetrician at Mayo Clinic Health System in New Prague.
"We partner with specialists in Rochester on probably half a dozen cases a year," says Dr. Moga. The providers communicate via email and patients' electronic health records.
Because the fibroid was becoming so large — reaching the size of a volleyball by the time it was removed at Mayo Clinic in May — it would be impossible for Anna to deliver her child vaginally. She would need a cesarean section. The operation would not be without significant risk.
"Fibroids that size require a substantial blood supply, so there can potentially be severe bleeding when you attempt to do the surgery," says Dr. Moga.
The C-section was scheduled for Jan. 5 at Mayo Clinic.
But Baby Winzenburg had other plans. Anna's water broke at 2:30 a.m., on Dec. 25. Jamis rushed her to the New Prague hospital, where Dr. Moga met the couple and informed them that Anna would be transferred by helicopter to Mayo Clinic. When bad weather prevented the helicopter from taking off — and icy roads meant an ambulance ride would take at least 90 minutes — Dr. Moga told the couple that their baby would need to be delivered in New Prague.
Dr. Moga quickly assembled his team, which included a general surgeon, certified nurse anesthetist and four nurses. And at 5:49 Christmas morning, Carter Winzenburg entered the world.
"This is one of the cases I will remember for the rest of my life," says Dr. Moga. "It was a true medical emergency, but thanks to a great team and careful preparation ahead of time, we had a successful outcome. And a baby born on Christmas Day? You can't beat that."
The Winzenburgs agree.
"Carter was our best Christmas present," says Anna, adding that the care she and her family received was also a gift.
"Everyone was so kind to us, so loving and warm," she says. "I always felt like they were there for me and that we were in this together. After Carter was born, I missed seeing them!"
Topics in this Post