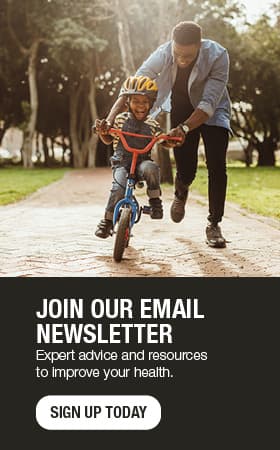 Heart attack leads to life-changing opportunity
Jeanie Hinz was having a bad year. Last spring, she broke her ankle and was laid up for several weeks. Then in July, she wasn't feeling well. After a day with friends at a farmer's market, she felt nauseated, was short of breath and especially had difficulty breathing at night. She called her doctor, who told her to go to the Emergency Department at Mayo Clinic Health System in Cannon Falls. She did and discovered she had suffered a heart attack.
Surgery and recovery
Hinz was transferred to Mayo Clinic Hospital – St. Marys Campus, where she underwent an aortic heart valve replacement surgery. "I was born with a heart defect and knew I had a heart murmur," says Hinz. Still, the shock of having a heart attack was a lot to digest. The 65-year-old Zumbrota woman says there were times after the surgery that she felt depressed, was weighed down with taking numerous medications and wasn't sure when she would begin feeling better.
Getting physical
Three weeks following her surgery, Hinz was back home and began a cardiac rehabilitation program with Elysha Skiba, a cardiac rehab therapist at Mayo Clinic Health System in Cannon Falls. Skiba helped Hinz strengthen her heart during a rigorous nine-week exercise program at the Bringgold Family Rehabilitation Center in the medical facility. Three times a week, Hinz worked on gradually increasing her activity levels. "It was challenging but not impossible," says Hinz. "Elysha helped make it an enjoyable experience and monitored my progress each week. I was amazed at how far I had come from where I was at when I started the program."
Lifestyle changes
At home, Hinz made changes to her meal planning and what she stocked in her pantry. "I never realized how much sodium I was eating," she says. She learned to read labels and began eating more vegetables, including leafy greens and broccoli. She reduced the amount of foods that were processed and were heavy in sodium content. As a result of both clean eating and increased physical activity, Hinz lost 25 pounds. She also needed a new wardrobe and began a part-time job at a clothing boutique. "I feel great, and life is good!"
Building friendships
In addition to gaining back her strength and feeling better than ever, Hinz made a personal connection with two other women who were part of her cardiac rehabilitation group. "We talk and laugh and share the new healthier recipes we've discovered with one another," says Hinz. "It's so great to have others who are going through similar situations. We were all at different levels in our recovery journeys, so it's nice to share our ups and downs and cheer one another on."
"Jeanie has been wonderful to have as a patient, as she has maintained a positive attitude during her recovery. This has been an inspiration to others," says Skiba. Hinz also credits her husband, Mark, and the couple's neighbors for their encouragement and support in her recovery.
Moving forward
Hinz graduated from the cardiac rehabilitation program in Cannon Falls in November 2016 but did not give up exercising or her lifestyle modifications. She works out on an elliptical machine and walks regularly. After spending some time in California during the winter months, she says she looks forward to returning to Cannon Falls when the facility opens a new wellness center complete with exercise equipment for the public in spring 2017. "I've had a great recovery and have learned how to take better care of myself."