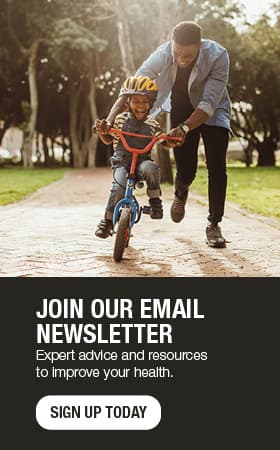 Healthy lifestyle changes easier with support of co-worker, teammate
Heidi Keller, right, of Mayo Clinic Health System – Chippewa Valley in Bloomer recently earned the Lifestyle Change Award from the American Heart Association. It was presented to her at the Heart Walk in Eau Claire, Wisconsin. Heidi's friend and co-worker, Brenda Seibel, left, nominated her for the award. The two help lead an annual Heart Walk team.
By Brenda Seibel
Mayo Clinic Health System – Chippewa Valley in Bloomer
Heidi Keller and I joined the Mayo Clinic Diet support group in February 2013 at Mayo Clinic Health System – Chippewa Valley in Bloomer. With busy work schedules and family sport activities, it was hard to maintain healthy choices on the go.
But the Mayo Clinic Diet encourages adding five healthy habits and breaking five unhealthy habits. It has inspired us both to keep physically active and sustain these changes. Heidi has made good eating habits fun for her family — swapping out unhealthy snacks for fresh fruits and veggies, packaging them in cute snack-sized bags to make it more fun to grab and go.
By focusing on her overall general health, Heidi has inspired me to keep going on this journey, as well. I have high cholesterol, and taking walks together and watching what I eat with a teammate made this change much more tolerable.
Heidi has included her family into her daily walking routine. This not only promotes increased physical activity but also is a fun time to talk about their day. In addition, Heidi competed in her first 5K race. She has taught her family that by just making small changes, you can gain a mile to your life. She has such positive motivation.
Heidi has taken charge of her well-being, adopting healthy eating habits, not only for herself but for her family. She has successfully managed to keep her weight loss for six months and still is practicing good choices. She is eating healthier, which creates a better self-image. She truly has been an inspiration to me.