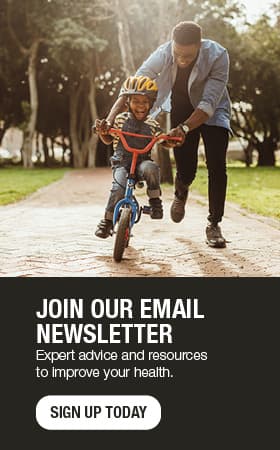 Getting off the diabetic train
By Tammy Jackson
My weight consumed my life. Food was constantly on my mind. I hated stepping within 10 feet of a scale. I visited my primary care provider who very wisely said, "Tammy, you are on the diabetic train, and if you don't get off by losing some weight, you will be diabetic as early as next year."
Then something happened that would change my life — I turned 50. My two beautiful children were approaching the college years, my marriage to Dan would soon reach 25 years and I could not help but dream of the day when I would be blessed with grandchildren. The last thought brought me up short. With my unhealthy weight, would I live another 25 years so I could enjoy what was to come? The answer to that question was simple. At my current weight, the chance of maintaining my health definitely was in grave danger.
I began to look at my options, thinking about what I had tried in the past. Being overweight my whole life, believe me — I had tried everything. I knew several people who had undergone bariatric surgery in the past year and decided to attend an informational session offered by Dr. Chris Hower and Dr. David Ciresi. After attending, I made an appointment and began the journey. I was skeptical. If I was going to do something this drastic, something that was not without risks, I had to know that I was making the right decision.
I attended group meetings as part of the program and began to put lifestyle changes in place that I had never been able to do before. I quit drinking diet soda, I began to exercise every day and I became acutely aware of some of the things that were in my head that drove my behaviors. I always cleaned my plate, I ate too fast, and I never really asked myself if I was full or not. I ate because I was stressed, I ate because I was happy and every social interaction I had involved food. If we went on vacation, I thought about where we were going to eat, not necessarily about the places we would visit. Crazy, I know.
After six months of preparation, I chose to undergo bariatric surgery on Dec. 11, 2012. Thanks to the very talented bariatric team in Eau Claire, my loving family and friends, and some hard work on my part, I am now 112 pounds lighter. Bariatric surgery changed my life. I still love food; but in addition to the surgical changes to my body, I have made significant lifestyle changes that will ensure my ongoing success.
Topics in this Post