We are experiencing high call volumes:
Use your account on the Mayo Clinic app or patient portal to check symptoms, get care recommendations and make an appointment.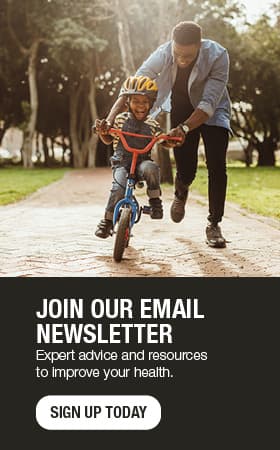 First ventilation care patient in Osseo heads home
After a two-month hospital stay, Maggie Hensel is ready to head back to her Cumberland home. "I have the cutest little house my son bought for me because I was too far away when I lived in Winona," she says.
Throughout the years, Hensel has had breathing problems. "I have my own pulse oximeter because I was monitoring my oxygen. One day I couldn't take it anymore and drove myself to the closest clinic for medical care," she says. When the attending nurse checked the number on her machine, it read 70 (meaning her oxygen level was very low). The nurse checked the number on another pulse oximeter. That machine also read 70. "She said, 'I think you need to go to the Emergency Department,'" Hensel says.
Hensel called her son who was turkey hunting and told him what was happening. He whispered to her over the phone while hunting. "Then I found myself whispering back telling him I had to go to the Emergency Department," Hensel says. She laughs now at how that conversation happened.
While at the Emergency Department in Rice Lake, it was determined she should be transported to Eau Claire. Hensel's diagnosis was an overly large hiatal hernia that was pushing against her lungs, which caused a drop in her oxygen saturation level.
In Eau Claire, Hensel was treated by Drs. Thomas Carmody and Robert Wiechmann. "I owe Dr. Wiechmann my life; I should take him home with me," Hensel says. "I had surgery to relieve the pressure from the hernia, and then I started to recuperate," she says.
But Hensel still struggled to breathe. "That's when they found I had fluid, so I had another surgery, and I don't remember, but they inserted a tracheotomy to help me breathe," Hensel says.
Once Hensel's health status improved, her Eau Claire care team suggested that Osseo would be the appropriate location to help wean her off the ventilation machine. "When they suggested Osseo, in my mind, I thought it was so far from my home. My kids told me to do what was best for me, and I have not been sorry for one second since I've been here. I am in the right place," Hensel says.
Hensel's Osseo care team included respiratory therapists, physical, occupational and speech therapists, registered nurses, nursing assistants, a dietician, pulmonologist Mark Lindsay, M.D., and a hospitalist. Hensel highly regards her entire care team, but also mentioned Patrick Baker, a respiratory therapist who assisted Hensel during the evening with her bi-pap machine. "He was so patient and made adjustments and waited and made further adjustments and waited some more," Hensel says. "This is the best care I've ever had, even if it is 25 to 30 miles farther away — it's been great."
Now that Hensel is on her way home, she realizes how much she is looking forward to getting back to her family. "My sweet daughter-in-law has my house ready to go," Hensel says. She also is looking forward to seeing her sons, Jeff and Ric, and her two grandchildren. "Going home also will be nice because I get to see my dog, Daisy, again," she says.
Mayo Clinic Health System – Oakridge in Osseo received approval to care for ventilator-dependent patients in March. This was a combined effort with Eau Claire Pulmonology and Respiratory Care departments, as well as Mayo Clinic Post Acute Care in Rochester.
---
For the safety of our patients, staff and visitors, Mayo Clinic has strict masking policies in place. Anyone shown without a mask was either recorded prior to COVID-19 or recorded in a non-patient care area where social distancing and other safety protocols were followed.