We are experiencing high call volumes:
Use your account on the Mayo Clinic app or patient portal to check symptoms, get care recommendations and make an appointment.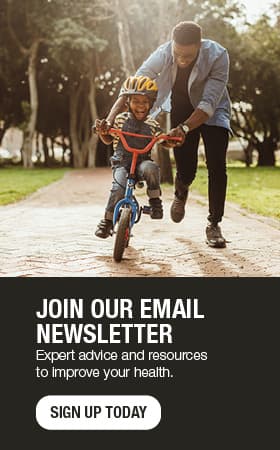 Family, faith and science help battle brain tumor
When the headaches started in the spring of 2018, they were brief but intense — two minutes of the worst pain Ali Rouse had experienced. At first, the headaches came just once a month, then once a week. Doctors told Ali not to worry.
"They said, 'You're a sixth-grade teacher. Of course you have headaches,'" Ali recalls.
When she began experiencing fatigue, doctors told her the same thing. Over the next several months, the headaches and fatigue got worse. When a new school year started in the fall, Ali sometimes even fell asleep in class.
"The kids would wake me up," Ali, a science teacher at DeLong Middle School in Eau Claire, Wisconsin, says.
Now she also was experiencing nausea.
"I started to wonder if I'd gotten Lyme disease," Ali says.
Discovering a diagnosis
In early October, Ali finally would learn what was causing her symptoms. She'd accompanied her husband, Dan, to the Twin Cities to cheer him on in the Twin Cities Marathon. But she was too sick to watch him cross the finish line.
"I'd sleep and every time I'd wake up, I'd throw up," she says. When the couple returned to Eau Claire they headed for the Emergency Department. The next day, Ali was told she had a brain tumor.
"The doctor said, 'You have cancer,'" Ali says.
Stimulating the brain after surgery
The next several days sped by in a blur. Jonathan Bledsoe, M.D., a neurosurgeon at Mayo Clinic Health System, removed the bulk of Ali's tumor in two surgeries. Testing revealed the tumor was glioblastoma, an aggressive type of cancer. Ali was referred to Mayo Clinic in Rochester to meet with Joon Uhm, M.D., chair of Neuro-Oncology at Mayo Clinic.
Dr. Uhm provided more information on Rouse's tumor, including some positive gene mutations that make it more responsive to treatment. He also outlined an initial treatment plan that would include six weeks of radiation and 10 weeks of daily oral chemotherapy.
"I've tolerated it pretty well," Ali says of chemotherapy. "I haven't been nauseous, but I've been more exhausted than I knew was possible. Sometimes it hurts just to keep my eyes open."
When Ali completed her first course of treatment, she met with Dr. Uhm again and he outlined a new plan. This one included additional chemotherapy, as well as the use of a device called Optune, which delivers electric fields to the brain to help stop the growth of cancer cells.
"I wear electrodes connected to my head, and the electrical impulses interrupt cell division," Ali says.
The device can be cumbersome, hot and makes sleeping difficult. But it also provides a source of hope. A clinical study showed that people who used Optune at least 75% of their day lived longer. So Ali wears the device close to 90% of the time.
"I only take it off to shower," she says. "Even if this doesn't work for me, it will get data that may help future patients."
Family, friends, field and faith
While her world has changed, Ali says she's still "living a normal life." It's a life that includes spending as much time as possible with friends and family, especially Dan and their kids, 12-year-old Will and 10-year-old Becca.
"My husband has been awesome, and my kids have been great," Ali says. "I have a huge support system. People have given us food and gift certificates, and babysat for us. I feel for people who don't have that kind of support."
In addition to her family and friends, Ali leans on her field and faith for support.
"I believe in science," she says. "I also have a strong faith in God. I do feel that God has a plan. I just don't understand the plan."
---
For the safety of our patients, staff and visitors, Mayo Clinic has strict masking policies in place. Anyone shown without a mask was either recorded prior to COVID-19 or recorded in a non-patient care area where social distancing and other safety protocols were followed.
Topics in this Post