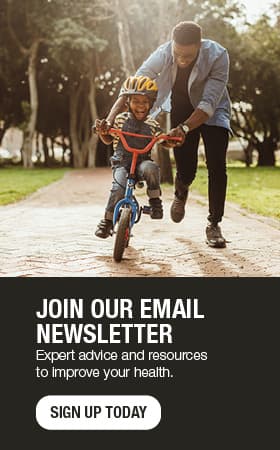 In 2008, Erica Shultz was busy as ever as a wife, mother, nurse and avid runner with a commendable 3-mile daily routine. While she rarely had free time, her active life was a healthy one. One day, however, Erica developed a nagging cough that wouldn't quit, and she began to lose weight.
Devastating discovery
Erica consulted her primary doctor, Dr. Krien, who informed her that she had walking pneumonia. When her cough persisted, Dr. Krien convinced Erica to get a chest X-ray which revealed the root of her illness — a six centimeter mass. She then met with Dr. Deetz, who conducted a biopsy. In tears, he shared his results: Erica had Hodgkin's Lymphoma. In that moment, she recalls, her life seemed to stop.
Family first
Erica was treated close to home by cancer specialists at Mayo Clinic Health System – Franciscan Healthcare in Onalaska. There, she could receive the treatment she needed with her loved ones at her side. This made all the difference. Her husband Dan was a constant presence at her bedside, as was dog Max. Most crucially, her doctors and nurses were available by phone at any hour, and an oncologist was on call at all times. They worked with Erica's family to learn her favorite food, books and other preferences so that each treatment session was as close-to-home as possible.
Uphill battle
Fighter that she is, Erica tried not to miss a beat by going to work during her treatment. But the side effects of chemotherapy took another toll on her health: a secondary case of pneumonia so severe, Erica had difficulty breathing. Daughter Annalisa could no longer bear to visit and see her mother in this state. Angry with God and ready to give up all hope, Erica turned to her minister and discovered a renewed fighting spirit and sense of purpose. From this point forward she knew she could give her all, both mentally and physically, on the road to recovery. With the support of her Mayo Clinic Health System team she completed 7 months of chemotherapy and 15 subsequent radiation treatments, and is now cancer free.
Healthy and back on track
Now, 31-year-old Erica is healthy and back to the busy life she loves. She likes to share her personal story at events like the West Salem Cancer Walk, admitting that each time she speaks, she is closer to a sense of total closure. And Erica is once again able to enjoy hiking and walking with her family and dogs around Lake Neshonoc.