We are experiencing high call volumes:
Use your account on the Mayo Clinic app or patient portal to check symptoms, get care recommendations and make an appointment.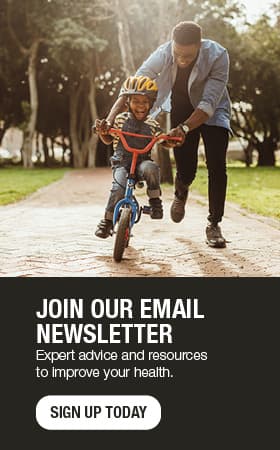 Eau Claire man returns to starting line two weeks after cardiac arrest
A day before he was set to run the Eau Claire Half Marathon in May 2012, a heart attack sent Tom Draz to the sidelines. While recovering at Mayo Clinic Health System in Eau Claire the next day, this lifelong exercise enthusiast suffered a cardiac arrest, a sudden loss of heart function, breathing and consciousness. If not treated immediately, it causes death.
"One minute I was alive, and the next minute I was dead," says Tom Draz, pointing to nurses who used a defibrillator to restore his heart rhythm.
Just two weeks after his heart attack and cardiac arrest, Draz walked 11 miles in the Cellcom Green Bay Half Marathon, which was canceled because of heat. Not one to give up, Draz tried his hand at the Eau Claire Triathlon about two weeks after that.
Now, a year later, Draz once again plans to participate in the Eau Claire Triathlon, being held June 9. The event is helping him train for an Ironman event in August.
While he now focuses on participation rather than competition, Draz credits Mayo Clinic Health System for helping return him to the sports he loves.
"My quick recovery had a lot to do with the quality of care and the staff," says Draz.
THE UNEXPECTED OCCURS
Draz was swimming the day before the Eau Claire Half Marathon in 2012 when he felt unusually tired and had chest pain. He stopped his workout and made a trip to the Emergency Department, where he learned he was having a heart attack.
Angioplasty was unable to open a blocked artery. Draz, then 52, learned about medication and lifestyle changes he would need as he was diagnosed with diabetes, one of the risk factors for heart disease. Controlling his diabetes and weight are important to decrease Draz's future risk.
While recovering in the hospital, Draz went into cardiac arrest. After a heart attack, the heart can become electrically unstable, and death from sudden cardiac arrest is a real risk, explains Richard Hanna, M.D., Mayo Clinic Health System cardiologist.
For patients who question whether to seek immediate care, Dr. Hanna points to Draz as a "good example to others — to come in right away and get help. This is why we admit patients and want them to stay."
Following discharge, Draz completed two weeks of cardiac rehabilitation, which taught him how to safely boost his physical activity.
UNFINISHED BUSINESS
After the 2013 Eau Claire Triathlon, Draz's next challenge is the Ironman Louisville (Ky.) in August. "I know it's the finish that's important and not how fast I do it or how many people I beat," Draz says.
Proceeding with caution is key, says Dr. Hanna. "It's just important to do this with moderate intensity, always listen to your body and slow down if you have to," he says. "Exercise good sense with it."
---
For the safety of our patients, staff and visitors, Mayo Clinic has strict masking policies in place. Anyone shown without a mask was either recorded prior to COVID-19 or recorded in a non-patient care area where social distancing and other safety protocols were followed.
Topics in this Post