We are experiencing high call volumes:
Use your account on the Mayo Clinic app or patient portal to check symptoms, get care recommendations and make an appointment.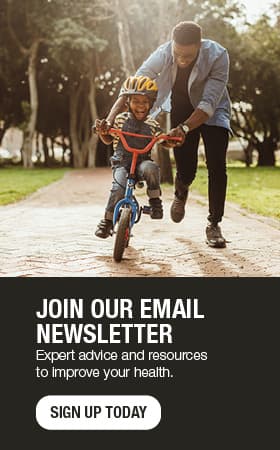 In 2006, Don Foster got a second chance at love when he married Pam whom he had dated when the two were high school classmates in Mapleton, Minn., in the 1960s. When they reconnected after more than 40 years, Don says "it was like we'd picked up the day after that first date."
Don didn't have to wait as long for his next second chance. Just four years after he and Pam were married, a heart attack nearly claimed his life. He credits local first responders and health care teams in Mankato and Rochester with saving him.
"I can say with 1,000 percent confidence that if it were not for the Mayo package, I would not be here," says Don. "I owe my life to them."
A surprising diagnosis
Don had battled what he thought was an upper respiratory infection for more than a week when he suddenly found himself unable to breathe one Saturday in October 2011.
"It felt like someone had parked a truck on my chest," he says.
Pam quickly called 911, and within moments first responders arrived, including one of the couple's neighbors, Keith.
"Keith and I locked eyes," says Don. "It was soothing to be able to look at him while this was happening. It took away some of the hysteria I was feeling."
Keith and his colleagues placed a breathing tube down Don's throat, then loaded him into a Gold Cross ambulance for a trip to the Emergency Department at Mayo Clinic Health System in Mankato. Doctors there ran tests and determined that Don's problem wasn't in his lungs, but in his heart.
"It was quite a shock to find out I'd had a heart attack," says Don.
Also shocking was learning he would need open heart surgery to repair the three blocked arteries that had caused the heart attack. Mankato does not offer the type of surgery Don needed, so he decided to have the procedure at Mayo Clinic in Rochester.
"I had options other than Mayo, but I don't hear about movie stars and foreign dignitaries going other places," says Don. "If Mayo is good enough for them, surely it is good enough for me."
Still, Don — and Pam — were nervous about what lay ahead of them.
"This was all territory that was unknown to us," says Pam. "We were going through waters that were very, very scary."
The couple says their fears were greatly relieved by the staff in Mankato who cared for Don the week leading up to his surgery.
"The staff was fabulous," says Pam. "They kept reassuring us that Don was doing great and that they would take good care of him in Rochester. When you're really scared, you need that reassurance."
A little over a week after his heart attack, Don had triple bypass surgery at Mayo Clinic.
"I woke up the next morning and felt absolutely wonderful," says Don, who tears up when talking about the team that cared for him in Rochester. "I don't have the words to say how wonderful they were."
Care continues back home
Don spent a week in the hospital in Rochester, then headed back home to Mapleton to recover. As part of his recovery, he attended cardiac rehabilitation in Mankato. Don says the education and support provided by the staff there helped him make much-needed lifestyle changes.
"I was a pack-and-a-half-a-day smoker for 30 years, and I quit that," he says. "We have healthier meals now and have started walking. The people there knew when to push. And whenever I was down they were there to build me up."
Don says that before his heart attack, he never gave health care much thought. Now, he feels grateful to be "sitting on top of" Mayo Clinic and Mayo Clinic Health System.
"I never thought about Mankato being part of Mayo Clinic," says Don. "But now I think it's unbelievable to have this kind of care so close. They poke a button on the computer in Mankato and they know what happened to you in Rochester. They poke a button in Rochester and they know what happened to you in Mankato. It's like every person you need, every doctor, every nurse, every specialist, is sitting right there with you. And the caring and understanding are there too."
Pam agrees, saying Don's story is "a story of people caring. It started with Keith and the first responders, then went to Mankato and Rochester and then back to Mankato for Don's follow-up care. I've never seen so many medical people give hugs before."
Every one of those people has a special place in Don's new-and-improved heart.
"You can't name names because you wouldn't know where to start or stop," he says. "It's a whole package deal. These people are lifesavers and I'm proof of it. I'm so thankful to have a second chance in life. There's not one thing I don't cherish now."
---
For the safety of our patients, staff and visitors, Mayo Clinic has strict masking policies in place. Anyone shown without a mask was either recorded prior to COVID-19 or recorded in a non-patient care area where social distancing and other safety protocols were followed.