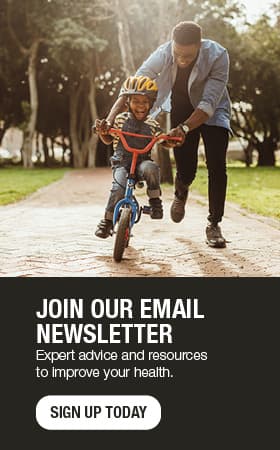 Darkness brings a new perspective on Chippewa Falls resident's way of life
Renee Kuester-Sebranek, of Chippewa Falls, Wisconsin, wasn't born blind, but she was aware at 17 that her vision would slowly decline and lead to blindness at some point in her adult life. Growing up with limited vision didn't slow her down. Renee was able to get her driver's license and learn how to engage in numerous outdoor activities.
She was diagnosed with retinitis pigmentosa, a degenerative eye disease affecting the retina with no current effective treatment or cure, an inflamed and partially detached retina, and cataracts. She has seen many providers and undergone several surgeries to delay vision loss. Joseph Dolan, M.D., Eye Care Center, Mayo Clinic Health System in Eau Claire, remains her trusted doctor to help navigate her options. "During our appointments, we talk about the research at Mayo Clinic, which continues to make headway into future eye treatments," says Dr. Dolan.
At 41, she was diagnosed as being legally blind and totally blind at 46. "I had to learn how to do everything differently, to develop patience, to slow down and learn to ask for help," says Renee. Her husband, Ken, and family members were supportive and helped her through some difficult moments. Ken, an avid outdoorsmen and canoeist, encouraged her to stay active, as she had always been, and started planning future canoe and camping trips they would take.
Today, at 51, she and Ken continue to enjoy hiking, tandem biking, fishing and world traveling. Three summers ago, the couple navigated a class III-IV whitewater run down the Brown's Canyon section on Colorado's Arkansas River in their inflatable canoe. They have witnessed two of their daughters' marriages, and this year they celebrated 24 years of marriage together. Renee also looks forward to hearing the squeals and pitter-patter of their grandchildren's feet when they come to visit.
"I heard a really awesome acronym, BLIND (being led in new directions), and is this ever true," says Renee.
In 2015, they also welcomed another member to the family: Charade, a 2-year old yellow Labrador retriever that has become her seeing-eye companion. Charade has allowed Renee the ability to gain more independence. They both enjoy daily walks, rain or shine, navigating the sidewalks and streets of her hometown.
"I am blessed to have been able to see this wonderful world for 41 years," says Renee. "I think regardless of abilities or disabilities, you can do pretty much anything you set your mind to. It may be challenging but that makes it more rewarding and exciting." She recognizes that the support of her family and trusted health care team have encouraged her to keep focused on living life to the fullest.