We are experiencing high call volumes:
Use your account on the Mayo Clinic app or patient portal to check symptoms, get care recommendations and make an appointment.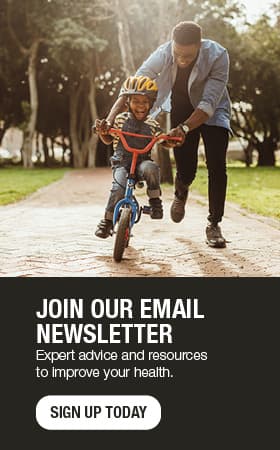 Community paramedic program cares for patients in their own homes
Recovering from surgery is rarely a walk in the park, but Mike DiPasquale's journey has been especially challenging. DiPasquale, a 63-year-old Rice Lake resident, has battled cancer five times over the last 40 years, underwent chemotherapy and radiation and sustained two surgeries. His last one — a rare, risky operation in which doctors performed a complete reconstruction of his hip and part of his pelvis — has kept him confined to a wheelchair, unable to bear any weight.
Getting anywhere, let alone to his many medical appointments, is an exhaustive process — which is why DiPasquale is so grateful for Mayo Clinic Health System's new pilot Community Paramedic program in nearby Barron.
"I know there are county programs where they come out and pick you up and take you to your appointments, and that's fine," says DiPasquale. "But in my situation, and given the severity of the situation, I don't know if I could've even done that initially. Having the Gold Cross community paramedics come out to my home was just perfect."
In 2016, Gold Cross Ambulance, in conjunction with Mayo Clinic Health System, launched a pilot program in which paramedics perform in-home visits of at-risk patients.
"The idea of the program is to do checkups of patients in their homes. Instead of having the patients come to us, we come to the patient," says Justin Bowe, a Gold Cross community paramedic. "Our ultimate goal is to keep the patients at their homes, where they want to be, instead of in the hospital setting."
The in-home assessments include health and physical examinations, medication compliance checks, safety evaluations and hospital discharge follow-up care. Home visits often last 45 minutes to an hour. They typically take place once a week but can be more frequent based on patient needs.
DiPasquale, who has seen Bowe, as well as community paramedic Marlene Dirkes, says he welcomes his weekly visits, not only for their physical benefit,s but also the mental peace of mind they bring.
"They're very easy to work with, and they're very concerned," DiPasquale says. "They'll ask me 'Well, how's your incision? Can we take a look to make sure it's healing OK?' They're very concerned about my overall well-being and not just from a physical standpoint, but psychologically, too. Justin and I will sit down, and we'll even talk about the Packers. I just really appreciate that."
Bowe says he's enjoyed the visits just as much. "Mike's been great," Bowe says. "He's very friendly and just an easy guy to talk to. We don't just talk about medical topics, but also about football and traveling."
Bowe and Dirkes see approximately five patients a day. For now, they strive to keep their patient visits to a 30-minute radius of Mayo Clinic Health System – Northland in Barron, but plans are in the works to expand the program to other service areas.
The program has been particularly helpful for patients recovering from surgery, those managing chronic conditions, such as diabetes, and those needing monitoring after a recent hospitalization. Not only can the paramedics physically evaluate patients and answer their questions, but they can also link them to other community resources that might be helpful.
Patients are referred into the pilot program by providers at Mayo Clinic Health System – Northland in Barron.
---
For the safety of our patients, staff and visitors, Mayo Clinic has strict masking policies in place. Anyone shown without a mask was either recorded prior to COVID-19 or recorded in a non-patient care area where social distancing and other safety protocols were followed.