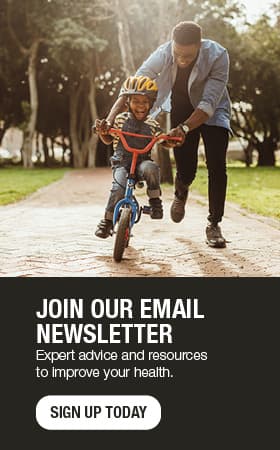 College professor beats breast cancer with hometown team
Polly Browne, 54, a North Mankato, Minnesota, resident and elementary education professor at Mankato-based Bethany Lutheran College, didn't have symptoms, but she knew something wasn't quite right with one of her breasts. An otherwise healthy person who had not long ago received a normal mammography report, Polly decided she needed to see her primary care provider in Family Medicine. Following a conversation and exam, it was recommended Polly undergo another mammogram and a biopsy.
Test results later revealed two tumors — breast cancer.
Polly was justifiably nervous and understandably apprehensive. Despite those feelings, she was confident in her health care team.
"The Mayo name gave me comfort, peace of mind and security that I was in the best hands," says Polly.
And she was referring to Mayo Clinic Health System in Mankato, an extension of world-renowned Mayo Clinic in Rochester, Minnesota.
"After I told my relatives about my diagnosis, my cousin called me," says Polly. "He previously had cancer and, living in a relatively remote area of Wyoming, went instead to Boston to receive top-notch care near his sister. He said to me, 'Go to Rochester (Minnesota). You need the very best.' I thought, 'I am getting the best care — I'm just not in Rochester.'"
The next step was a treatment plan. Polly first met with Tara Krosch, M.D., a general surgeon, to discuss the removal of her tumors.
"Dr. Krosch was incredible," says Polly. "She sat down with me and explained what we were going to talk about. She wrote things down, drew things and described everything sequentially."
Polly also commented about her appreciation that Dr. Krosch was engaged with her on a personal level and often called her by name, even in the operating room.
"It's really important to be treated as a person and not just a patient," adds Polly.
Surgery to remove the tumors took place in November (2015) with Dr. Krosch. A breast reconstruction with Albert Harris, M.D., a plastic and reconstructive surgeon, immediately followed.
Dr. Harris and his team employed a unique approach to Polly's breast reconstruction. Instead of the standard under-the-muscle implant, Dr. Harris — with guidance from his colleagues at Mayo Clinic's Rochester campus — placed the implant above the muscle, which decreased Polly's recovery time.
"Man that was slick," says Polly, confirming she recovered "very quickly" and was able to resume her normal physical activities within a couple of weeks with minimal discomfort and no complications.
Once completed with the surgical operations, Polly knew she still had an uphill battle involving chemotherapy and radiation therapy. Stephan Thomé, M.D., an oncologist, took the lead with her chemotherapy treatments, involving her every step of the way.
"I always felt like I was in really good hands with Dr. Thome," Polly says. "He always referenced results and followed protocols based on sound scientific research with which he was very familiar."
"He even drew diagrams on the exam table paper," she adds with a laugh. "He communicated well and was very thorough."
David Owens, M.D., a radiation oncologist, oversaw Polly's radiation therapy.
"I met with Dr. Owens, and we had a conversation about the purpose of radiation and what would happen during my treatment," says Polly. "He used a lot of analogies to explain things, and talked about my faith and how it's so important to my recovery."
During chemotherapy treatments at the Andrea Cancer Center in Mankato, Browne felt confident in the nurses' skills and comforted by their personal attention. When she rang the bell on her final day, the entire staff came out and applauded. "I'm sure they do that for everyone, but that day it felt like it was just for me. It was powerful and touching."
Now, more than a year after her successful surgery, Polly is in remission and recently wrapped up the final phase of her breast reconstruction. She's seen significant health improvements, including an intentional 11-pound weight loss.
Polly credits much of her ongoing recovery to the Livestrong program at the YMCA in Mankato, which helped launch her increased focus on overall fitness. She explains Livestrong is a health and fitness program for active chemotherapy patients, recovering cancer patients and cancer survivors. Now an alumna of Livestrong, she stays very active, regularly lifting weights, walking, and playing pickleball, golf and softball.
Through her journey, Polly lauded the Mayo Clinic expertise available in Mankato and how the health care system lived up to its primary value.
"I love 'The needs of the patient come first.' That motto was adhered to by everyone who took care of me," says Polly. "I've had the most tremendous team of medical professionals working with me. This Mayo system is exceptional."