We are experiencing high call volumes:
Use your account on the Mayo Clinic app or patient portal to check symptoms, get care recommendations and make an appointment.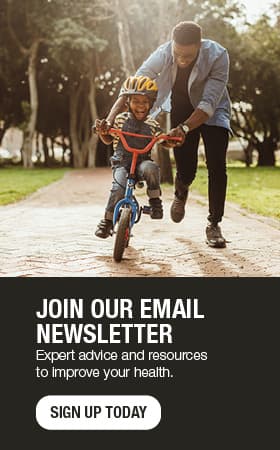 Chance discovery leads to baby's successful surgery
Mandy and Tyler Leopold, of Austin, Minn., adopted Elliana at birth. She was born May 3, 2013, and her infancy was completely normal until 16 months.
The Leopolds' pediatrician, Shayana Desilva, M.D., a pediatrician on the Austin campus of Mayo Clinic Health System – Albert Lea and Austin, did a chest X-ray to rule out pneumonia. "Elliana presented with fever, so I first considered infection," says Dr. Desilva. "The X-ray showed a dense area, so I treated for pneumonia for a day. Afterward, the area looked more like a mass, and I was concerned because it was pushing the windpipe to the side. I referred her to Mayo Clinic for further testing."
Mayo Clinic specialists diagnosed Elliana with a stage 3 neuroblastoma, a cancer that affects nerve cells. In Elliana's case, the tumor affected the sympathetic nerves on her spine, and had also adhered to her heart and lung.
Unfortunately, after five rounds of chemotherapy, the tumor didn't shrink. Vilmarie Rodriguez, M.D., a pediatric oncologist at Mayo Clinic who coordinated Elliana's care, referred Elliana to Michael Ishitani, M.D., a pediatric surgeon, who collaborated with John Atkinson, M.D., a neurologic surgeon, on a complicated surgery to remove as much of the tumor as possible.
The team extracted more than 90 percent of the tumor, which is the benchmark for success. The remaining tumor pieces are on Elliana's spine, which is too risky to disturb at this point. "I think they got around 96 percent of the tumor," says Mandy Leopold. "Technically, she could live with those pieces for the rest of her life without growing more." In the meantime, it's not holding Elliana back.
Although Elliana gets regular MRIs and urine tests to monitor tumor activity, Mandy says she is full of energy. After extensive physical therapy to retrain Elliana's left side to move properly — a necessity after surgery close to her spine — Mandy says they've seen a 90 percent improvement in mobility.
Believe it or not, the virus might have saved Elliana's life.
"The virus symptoms had nothing to do with the cancer," says Mandy Leopold. "We feel thankful that she got the virus, because the cancer itself didn't present any symptoms. We never would have known."
"We're thankful for Mayo Clinic," she says. "We feel blessed by Dr. Ishitani's skills as a surgeon, and the clinical staff, who always remember our name out of hundreds."
---
For the safety of our patients, staff and visitors, Mayo Clinic has strict masking policies in place. Anyone shown without a mask was either recorded prior to COVID-19 or recorded in a non-patient care area where social distancing and other safety protocols were followed.
Topics in this Post