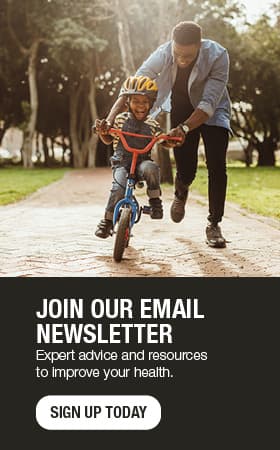 C.A.T. Run Benefits Hospice Program
Rick Trainor's late wife, Carol, was a go-getter who loved to dance, cook and ride motorcycles.
Once a year, Rick and Carol — co-owners of Torch's Valley Bar & Grill, west of Menomonie — took a few weeks off of work, hopped on their Harley Davidson motorcycles and headed west for a long ride.
Rick and Carol were married in the summer of 2005. To commemorate their July 12 anniversary, the couple always participated in a summer motorcycle run, where they'd join other motorcycle enthusiasts and spend a day riding from place to place.
After Carol died of lung cancer in 2011, Rick, 60, started a run in her honor. This year's "C.A.T. Run" — named in loving memory of Carol Ann Trainor — brought together more than 60 bikers and raised $1,000 for the hospice program at Mayo Clinic Health System, through which Carol and her family received services immediately before her death.
Rick says he organized the event as a tribute to Carol, to keep her memory alive and to contribute to a cause that gave so much to him and his family.
"When the hospice people would come to the house, they'd always answer your questions. If you needed something, they'd get it for you. I can't say enough — anything you wanted, they took care of it," Rick says. "It was amazing."
Home Health & Hospice at Mayo Clinic Health System is a comprehensive service that provides comfort and care for the terminally ill and their families. A team of professionals, including registered nurses, hospice aides, social workers, spiritual care providers, a registered dietitian, rehabilitation therapists, volunteers, a massage therapist and the program's medical director, provide care.
Kelly Sikkink, assistant administrator of Home Health & Hospice, says the program, which serves more than 11 counties in northwestern Wisconsin, offers an individualized approach where each patient determines how much help they want or need.
Patients typically qualify for hospice services when they have a life expectancy of six months or less. Oftentimes, though, patients come to hospice for a much shorter time span and don't get to experience the service line's full benefit.
"So often, we get thank-you letters from the families, and they write, 'I wish I would've known about hospice sooner,'" Sikkink says. "I think people are afraid of hospice. It doesn't mean that you're giving up, but rather that you've got a team of experts in pain and symptom management and for psychological, spiritual and emotional support."
Sikkink says she's grateful to Rick for his efforts to support hospice and raise awareness about its benefits.
"He definitely has a great heart, a great family and friends that support what he's passionate about," she says.
In addition to the $1,000 from the C.A.T. Run, Rick donated another $400 from a meat raffle before the ride. The combined $1,400 donation will be put toward Home Health & Hospice's bereavement outreach service, which follows up with the patient's family for 13 months after the death, providing such services as staff visits, phone calls, newsletters and special remembrance events.