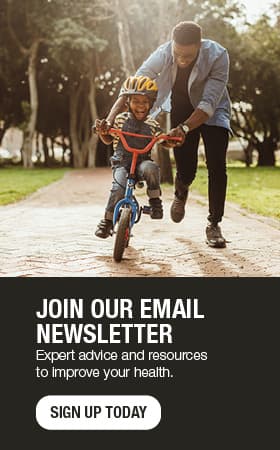 Care continues virtually for young patient
Topics in this Post
"High energy" is one way to describe Conner Thorstad. He is a busy 5-year-old who loves being active by running, jumping and playing with his younger siblings at his home in Fort McCoy, Wisconsin.
However, Conner isn't high energy with one thing: his eating. According to his mom, Kristie Thorstad, Conner is a problem feeder.
"He sticks to foods that he is comfortable with, like white bread and cheese sticks," says Kristie. "He doesn't like to try new foods or any food with different textures. Sometimes he would gag with a new food."
These are common behaviors of children with a problem feeder diagnosis, explains Katie Bakke, an occupational therapist at Mayo Clinic Health System in Sparta, Wisconsin. Additional behaviors beyond being a "picky eater" include eating less than 20 different foods, "losing" foods they previously ate and refusing to eat foods that have certain textures.
When Conner was 2, his pediatrician referred the family to Katie for a consultation. She provided tips and resources at that time. However, his eating habits didn't improve, so the family returned this year.
"Conner remembers meeting Katie when he was 2 years old, so he was excited to go back and see her," says Kristie. "They connected very well."
Conner's first few therapy visits were in the Sparta clinic, close to the Thorstad's home. During the appointments, Katie and Conner work on his accepting new foods and addressed his sensory sensitivities.
Telehealth during social distancing
However, face-to-face appointments needed to change when the COVID-19 pandemic began. That is when Katie recommended that therapy continue, but in a virtual setting.
"I was extremely excited," says Kristie when presented this option. "I knew if he did not see her, he would pull back a little. The first visit we had was a phone visit, and Conner loved hearing Katie's voice. But he really loves the interaction of the video visits he has had since that time."
Telehealth, also known as virtual or video visits, has been used for years to connect patients with specialists at Mayo Clinic in Rochester. But the COVID-19 pandemic required a hastening of widespread use, meaning thousands of patients like Conner are experiencing it for the first time this spring.
Before each visit, Katie and Kristie communicate through Conner's Patient Online Services account to identify foods that they will work with during the therapy visit.
"This communication allows the family and me to have the same foods on both sides of the camera," says Katie. "This has really enhanced Conner's ability to progress with our therapy."
Conner has responded as well.
"Sometimes he notices a slight difference in what he has in front of him verses what Katie has — like his orange is small while her orange is bigger," says Kristie. "It helps him accept the differences of the foods."
Connor's virtual visits
At the start of each therapy visit, Katie helps Conner warm up to help him focus. Not surprisingly, he likes any active warm-up technique, like running in place, stretching out his cheeks with his tongue or rubbing his ears to make sure they are turned on and ready to engage.
"We have found different ways to warm up since he is at home," says Katie. "This gives the family the opportunity to reinforce these activities prior to him sitting down for meals throughout the day."
Another benefit of virtual therapy visits is that Katie has been able to see how Conner behaves at home. At a recent visit, Conner began displaying behaviors that he had not before, and Katie was able to witness this while Conner was in his home environment.
"It could be that he is more comfortable with her now," says Kristie. "But she got to see his true colors and how he acts in his home setting."
"This is helpful because sometimes children act one way in the clinic and differently at home," says Katie. "This type of therapy visit helps us further identify how to enhance home programming, utilize items that are already available in the home and see how the child responds to treatment in his home environment."
Family benefits of virtual visits
Virtual visits also help with family follow through.
"Virtual visits are helpful with pediatric patients because the family can practice exercises and activities with me during our visit, rather than relying on one family member to remember and transfer the information from the clinic to the home," says Katie.
Conner and his family have embraced virtual therapy visits.
"Conner video chats with family members often, so he is used to this type of interaction and likes seeing familiar faces on the screen," says Kristie. "We are extremely grateful during this time when things are so different to have telehealth capability so we don't lose the progress that he is making."
Katie agrees.
"Our team is proud to be able to continue to serve our patients using telehealth services during this pandemic," says Katie. "We are grateful for the positive responses while our patients support social distancing."
Topics in this Post