We are experiencing high call volumes:
Use your account on the Mayo Clinic app or patient portal to check symptoms, get care recommendations and make an appointment.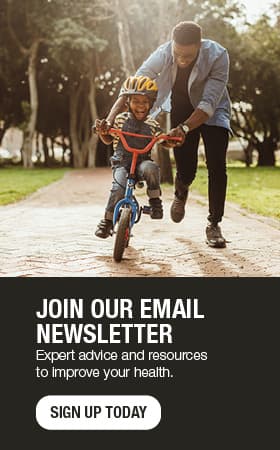 Dennis Griffiths: Cardiac Rehabilitation – Healing for the heart and soul
by Dennis Griffiths
Some people view life as a tragedy, but I view it as a learning experience. Others might say that's the retired professor in me talking, but I have lived it.
Eight years ago at age 63, I thought I was healthy and got enough exercise by mowing the lawn, riding my motorcycle and going on walks with my wife.
I was wrong.
On the morning of October 3, 2005, I had a heart attack. I was taking bags to a yard waste site in Menomonie when I started feeling—different. I am a diabetic and had not eaten breakfast that morning, so I went home to grab a snack. I was not in any pain, but my ever-vigilant wife made me take some aspirin and drove me to the Emergency Room at Mayo Clinic Health System—Red Cedar in Menomonie, Wis.
I didn't feel right, but I still didn't think I was having a heart attack.
The doctors asked me a list of questions. Even though I was not experiencing the traditional symptoms—shortness of breath or tightness in my arms or chest—they told me my heart was trying to have a heart attack. With that news, I rode in an ambulance for the first time in my life as I was transferred to Mayo Clinic Health System in Eau Claire, Wis. Shortly after, I had a stent surgically placed into my heart. Due to timing concerns, my doctor waited another month before placing a second stent.
That learning experience changed my lifestyle.
To aid recovery, I began going to Cardiac Rehabilitation service at Mayo Clinic Health System in Menomonie. Eight years later, at age 71, I have become a regular, and they have become my family.
Like many people, I've always had a buffet of workout equipment in my basement, but I've only used it as an expensive coat rack. Now, I begin every weekday by exercising at Cardiac Rehabilitation for an hour on the various workout machines including a treadmill, elliptical machine, recumbent bike and strength training machine.
Surrounded by friends at Cardiac Rehabilitation, exercising has become easy to do, and it goes quickly during a good conversation. The sense of comradery is also high since individuals need a physician referral to enter the program. I had felt sorry for myself after my surgery, but everyone there has their own inspiring story. It makes you realize that if they can do this, then you can, too.
Any extra motivation I needed was quickly provided by the staff. When I first started, I kept the difficulty level on the machines low; but with the help of Linnae Frank, a registered clinical exercise physiologist in Cardiac Rehabilitation, I have worked up to the highest difficulty level. I would have gotten there eventually, but she got me there faster.
The benefits of my lifestyle change became clear this year after my doctor ran some blood work. From 2005 to 2013, my cholesterol dropped from 175 to 105, my HDL improved from 36 to 54, and my LDL decreased from 110 to 36.
"Whatever you are doing, kid, keep doing it!" my doctor said after comparing the results.
There are some things you cannot change in life, like your family health history, but you can do something about it. I have chosen to make exercising at Cardiac Rehabilitation part of my life—I'm not going to quit.
---
For the safety of our patients, staff and visitors, Mayo Clinic has strict masking policies in place. Anyone shown without a mask was either recorded prior to COVID-19 or recorded in a non-patient care area where social distancing and other safety protocols were followed.
Topics in this Post