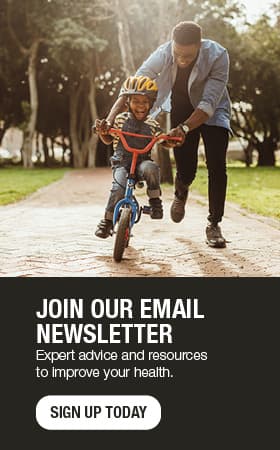 Campaign aims to reduce colon cancer diagnoses and deaths
Shannon Murphy of Mankato, Minnesota, received an unexpected birthday gift from her family physician.
Richard Fleming, M.D., sent Murphy a letter advising that since she was turning 50 — the recommended age to begin screening for colon cancer — Murphy should schedule a colonoscopy.
"I trust Dr. Fleming," says Murphy. "When I got the letter from him, I knew it was important and scheduled the appointment."
She's glad she did. During her colonoscopy, 11 polyps were discovered, removed and tested for cancer. Three of them were precancerous and had a high risk of developing into cancer.
"I feel like Dr. Fleming saved my life by sending me that letter," says Murphy.
That's the goal, says Dr. Fleming.
"Studies show that colonoscopies save lives, but people often put off having the exams," he says. "By sending out reminder letters, we're hoping to cut down on cancer diagnoses and deaths."
The reminder campaign is part of a larger initiative throughout Mayo Clinic Health System called the Health and Chronic Disease Management Project. The project aims to help people better manage chronic conditions and also improve screening rates for a number of cancers. Letters similar to the one Murphy received are also mailed to women who are due for Pap smears and mammograms. People with chronic conditions such as diabetes, asthma and depression receive letters if they are due for appointments or tests.
"Our hope is that these reminders will help keep people healthier and out of the doctor's office," says Dr. Fleming, who leads the project. He says that the electronic medical record makes it possible to identify people who are due for screenings or other exams.
And what if someone receives a letter, but still doesn't schedule an appointment?
"Then they'll be getting a call from someone like me," says Jodi Olson, Dr. Fleming's nurse. "We're making personal follow-up calls to encourage people to schedule the appointments and tests that they need."
Olson and Dr. Fleming say the project is a rewarding one to be a part of — especially when they hear stories like Murphy's.
"This is why we went into medicine," says Dr. Fleming. "We're in this field to make a difference in people's lives."
---
What is a colonoscopy?
Colonoscopies detect changes or abnormalities in the large intestine (colon) and rectum. The exam is completed by inserting a long, flexible tube (colonoscope) into the rectum. A tiny video camera at the tip of the tube allows the doctor to view the inside of the entire colon.
View a video of the procedure.
Watch a testimonial from Shannon Murphy:
---
For the safety of our patients, staff and visitors, Mayo Clinic has strict masking policies in place. Anyone shown without a mask was either recorded prior to COVID-19 or recorded in a non-patient care area where social distancing and other safety protocols were followed.
Topics in this Post