We are experiencing high call volumes:
Use your account on the Mayo Clinic app or patient portal to check symptoms, get care recommendations and make an appointment.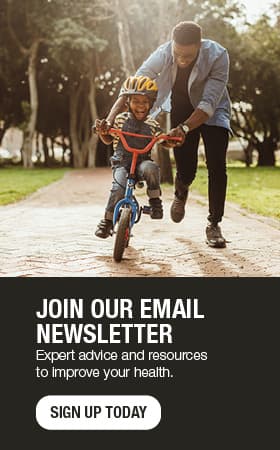 Brian Shoemaker: A trip to Urgent Care triggers a life-saving event
Brian Shoemaker just passed an extremely special two-year anniversary – the anniversary of a life-saving event that started with a trip to Urgent Care.
The 57-year-old from Minnesota Lake, Minn. is no stranger to tough work and long hours – he's a sergeant for the Blue Earth County Sherriff's Office and was in the military for 24 years. But when he started noticing swelling in his legs and extreme fatigue after his rounds as a jailer, it just didn't seem right. Fortunately for Shoemaker, his wife noticed it too and made sure he went into Urgent Care to find out what was wrong.
Ruth Bolton, M.D., Mayo Clinic Health System urgent care physician, evaluated Shoemaker at the Urgent Care facility at Mayo Clinic Health System in Mankato Eastridge. "I remember when I first saw Dr. Bolton," said Shoemaker. "She couldn't believe I was vertical."
"Brian came in with significantly swollen legs and said he didn't quite feel like himself," says Bolton. "It was the most interesting patient case I had seen in quite some time."
Dr. Bolton decided to run several tests on Shoemaker, but the results were normal. She then sent him to the hospital in Mankato for a CT scan and got Shoemaker's cell phone number so she could call him as soon as she had results.
Shoemaker ate lunch after the scan and then headed home. During the drive, he received a call from Dr. Bolton. She told him that the radiologist had called her personally to let her know that the CT scan found a cancerous spot on Shoemaker's kidney. Dr. Bolton told Shoemaker that he needed to get to Mayo Clinic in Rochester as soon as possible.
Shoemaker turned his car east and drove to Rochester. Upon arrival, he learned that his CT scans had been sent to Rochester staff. He was pre-admitted, and Dr. Bolton had already briefed the Rochester providers on the situation. "It was amazing," says Shoemaker. "They had all my information right there."
Rochester staff confirmed the cancerous spot as a renal cell carcinoma of the right kidney. However, they did not perform surgery immediately because they wanted to ensure the cancer had not spread. They discovered a blood clot had made its way to Shoemaker's heart, which was the reason his legs were swollen and a major cause of his exhaustion.
"They said I probably wouldn't have made it much longer," said Shoemaker.
Mayo Clinic surgeons successfully operated on Shoemaker's kidney and blood clot on Jan. 28, 2011. Two years later, he passed his second anniversary of this major event cancer-free and, in his words, "is doing awesome." He still recognizes the care that Mayo provided.
"I can't say enough about Mayo and the way I was treated, and Dr. Bolton was just the first part of a really good team that treated me," says Shoemaker. "I don't know if a person can get better care. I'm not sure I'd be here if I lived somewhere else."
---
For the safety of our patients, staff and visitors, Mayo Clinic has strict masking policies in place. Anyone shown without a mask was either recorded prior to COVID-19 or recorded in a non-patient care area where social distancing and other safety protocols were followed.