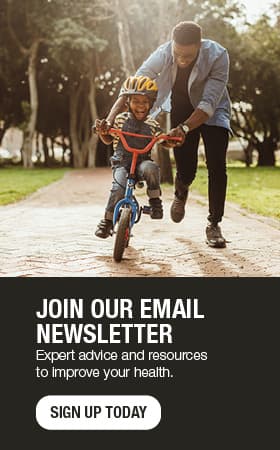 Beloved nurse, model patient: Blair Busby's breast cancer journey
When her sister was diagnosed with an aggressive form of breast cancer and passed away at age 38, Blair Busby knew she couldn't be too careful. She began annual mammograms at age 35.
Twenty-five years passed without an abnormal test, but at age 60, during her December 2014 routine mammogram at Mayo Clinic Health System in Red Wing, specialists found early stage breast cancer. After a biopsy confirmed the diagnosis, Busby scheduled a double mastectomy. Barely a month after Busby's mammogram, Paul Hartzheim, M.D., performed her surgery in Red Wing.
"As much as you can call having breast cancer a positive experience, this whole thing was nothing but positive," says Busby. "From how quickly I was able to get tests and surgery, to how I received almost all of my care here in Red Wing, and the Healing Touch program here, it was all just utterly convenient."
Busby spent two days recovering in the hospital where she has worked for 23 years and then was discharged to the care of her mother, a retired nurse. "My family was always ready to lend a helping hand, but I also felt enveloped by my other family, my team here at work," says Busby. Busby's entire floor wore pink on the day of her surgery to show their support.
Oncologist C. Victoria Thomas, M.D., says this support for Busby is no surprise. "Blair is a wonderful nurse. Everyone loves her," she says. "Even my mother and late father would come here just to see her. She brings so much joy, and I'm happy to say she has an excellent prognosis."
Dr. Thomas recently declared Busby free of cancer at her one-year follow up appointment on Jan. 7, 2016. "Having lost a sister to the same disease 20 years ago, it's pretty phenomenal to me that I'm cancer-free now," says Busby. "I have nothing but good things to say about the whole experience."
---
For the safety of our patients, staff and visitors, Mayo Clinic has strict masking policies in place. Anyone shown without a mask was either recorded prior to COVID-19 or recorded in a non-patient care area where social distancing and other safety protocols were followed.
Topics in this Post