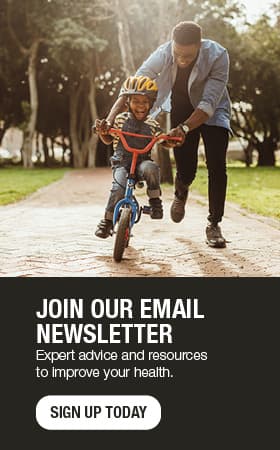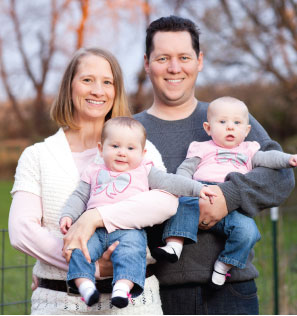 Soon after getting married in the summer of 2010, Mandy Trnka and her husband, Jody, of Lonsdale, were ready to start a family.
But after a year of trying, Trnka still wasn't pregnant. She scheduled an appointment with C. Nic Moga, M.D., an obstetrician/gynecologist at Mayo Clinic Health System in New Prague.
Dr. Moga ran tests to determine why Trnka was unable to become pregnant.
"All the lab values for Mandy and Jody were normal, but Mandy had a possible blockage in her left fallopian tube," he says.
While basic infertility evaluation and treatment are available in New Prague, Dr. Moga referred Trnka to Mayo Clinic in Rochester for more advanced treatment.
"Since Mandy had what we call 'unexplained infertility,' I chose to refer her to Rochester," says Dr. Moga.
"I've worked with the team there for years and have seen excellent results."
In Rochester, Trnka met with Charles Coddington, M.D., an obstetrician/gynecologist in the Division of Reproductive Endocrinology and Infertility. She was prescribed medication to stimulate ovulation and then had intrauterine insemination (IUI). In this procedure, sperm that have been collected are placed directly in the uterus around the time the ovary releases one or more eggs to be fertilized. Trnka became pregnant the second time she had the procedure.
"We were so relieved and so happy," she says.
A few weeks later, an ultrasound revealed Trnka was carrying twins.
"I was excited, but it took a little while for my husband to process the news," says Trnka. "It was a quiet ride home from that appointment."
After the ultrasound in Rochester confirmed a normal, healthy pregnancy, Trnka was able to have the rest of her prenatal appointments in New Prague. She appreciated being able to receive care closer to home and from a tight-knit group of providers she says were "very adaptable to our needs."
"One of the strengths of our department is that we offer a more personalized experience compared to some of the larger hospitals or OB/GYN practices," says Dr. Moga. "It's a little more work and effort, but it's worth it. I also deliver most of my own patients, which is beneficial for the provider and the patient."
Dr. Moga was there on Feb. 28 when, after 24 hours of labor, Trnka had a cesarean-section. Adeline Liberty was born at 7:42 p.m., weighing 5 pounds, 5 ounces. Bella Lea entered the world a minute later, weighing 6 pounds, 4 ounces.
Today, the Trnkas are adjusting to life as a family of four.
"It's very hectic," Trnka says with a laugh. "But very good."
Dr. Moga says it's rewarding to help people like the Trnkas achieve their dreams of becoming parents.
"Most patients are grateful to become pregnant and deliver, but infertility patients are especially grateful," says Dr. Moga. "Helping them become parents is without question one of the highlights of my job.
---
For the safety of our patients, staff and visitors, Mayo Clinic has strict masking policies in place. Anyone shown without a mask was either recorded prior to COVID-19 or recorded in a non-patient care area where social distancing and other safety protocols were followed.
Topics in this Post