We are experiencing high call volumes:
Use your account on the Mayo Clinic app or patient portal to check symptoms, get care recommendations and make an appointment.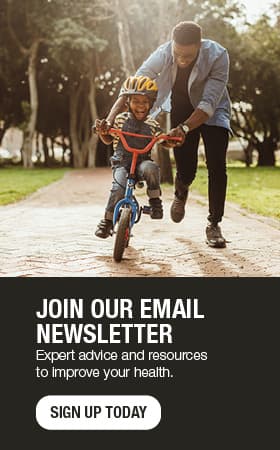 After back surgery, marathoner helps friend cross the finish line
Anyone who's ever run competitively knows how rewarding it is to cross the finish line. Jacob Nash knows that thrilling feeling well. However, unlike other competitors, the 41-year-old marathoner crossed his last finish line within six months of having back surgery.
A few weeks before that, he completed a triathlon while pushing and pulling a friend with cerebral palsy through the race. Earlier that month, he earned a personal record in a half-marathon.
The Chippewa Falls, Wisconsin, man suffers from painful degenerative disk disease, which is the breaking down of soft spinal disks, often due to aging. He tried many treatments over the years, including chiropractic care, massage and medication, with little to no relief.
In March 2017, Nash underwent back surgery at Mayo Clinic Health System in Eau Claire to remove an injured spinal disk, called a laminectomy, and tissue between the disks, called a diskectomy. His outpatient surgery went well. So well, that he was cleared to start body-weight strength exercises at eight weeks, and run and swim approximately 12 weeks post-surgery.
No stopping him
"When they allowed me to start swimming, I was getting out almost every day," says Nash, a father of two who owns a personal training business, which accommodates people with and without disabilities. "If I wasn't swimming, I was walking every day."
In time, and in combination with six weeks of physical therapy, Nash began regaining strength. At 12 weeks, he received the green light to resume all normal activities.
"I ran four miles that day. It felt great," recalls Nash, who has run 21 certified marathons.
---
"It's amazing, once you take away the pain factor, what people can do."
— Jonathan Bledsoe, M.D.
---
His first race post-surgery was a 5-mile run in Eau Claire, which he completed while pushing his friend, Sarah Schemenauer, also of Chippewa Falls, in her wheelchair. The two competed in a 25K run a few weeks later, with Nash again pushing her in the chair.
Jonathan Bledsoe, M.D., chair of Spine & Neurological Surgery at Mayo Clinic Health System in Eau Claire, performed Nash's surgery and describes it as straightforward and successful, and made simpler by Nash's level of fitness.
"His being in shape really helped out with his recovery, but his determination and willingness, especially after having back surgery, to push and pull someone with cerebral palsy in a triathlon is just incredible," Dr. Bledsoe says. "It's amazing, once you take away the pain factor, what people can do."
Being active and maintaining a healthy weight slow the disease's progression and speed recovery time if it does occur, he says.
Feeling alive
Nash says he wants people to know that, although the thought of having surgery can be scary, "It isn't necessarily the worst thing in the world. When you're in the right hands and you're the right person yourself, anything is possible."
He says he had "an amazing experience" at Mayo Clinic Health System and notes he'll always remember the caring nature of all who cared for him. He recalls bumping into Dr. Bledsoe at a race in Minnesota this summer and being impressed by the fact that he'd take the time to check in.
"It was nice for him to recognize me and ask, 'Mr. Nash, how are you doing? How is everything going?' That kind of stuff," he says. "It showed that he was more than just a surgeon doing his job."
Dr. Bledsoe, himself a recreational runner who was cheering on his wife that day, remembers the encounter, too, and says he takes pride in all his patients.
"It is encouraging to see what he has been able to accomplish, and it was great to cheer him on that day," says Dr. Bledsoe. "While another surgery down the road isn't out of the question for Mr. Nash, his active lifestyle will certainly slow the progression and pain of his degenerative disk disease."
As far as Nash is concerned, the sky's the limit.
"Some people may say, 'You do too much.' But I say, 'I'm smiling every day that I'm alive,'" Nash says.
---
For the safety of our patients, staff and visitors, Mayo Clinic has strict masking policies in place. Anyone shown without a mask was either recorded prior to COVID-19 or recorded in a non-patient care area where social distancing and other safety protocols were followed.
Topics in this Post