We are experiencing high call volumes:
Use your account on the Mayo Clinic app or patient portal to check symptoms, get care recommendations and make an appointment.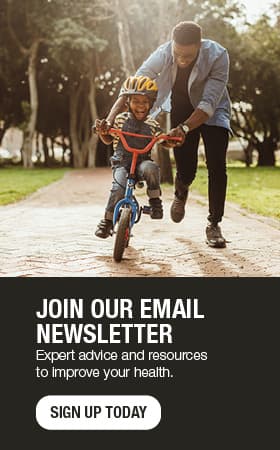 A Wisconsin family's lasting relationship with Mayo Clinic Health System
After Kathy and Glenn Johansen moved to Spring Valley 33 years ago, Kathy became pregnant and needed a new doctor.
A friend referred her to Mayo Clinic Health System (then known as Red Cedar Medical Center), where she was seen by James Walker, M.D., a family medicine physician who also provides obstetric care, beginning the long-term connection between physician and the Johansen family, which Kathy describes as "more that just a patient-doctor relationship — it has been a friendship."
Since that first encounter, Dr. Walker has cared for 20 of the Johansen extended family members, spanning four generations, including delivering 12 of the family's babies.
A family-friendly physician
"I appreciate so many things about Dr. Walker," says Johansen. She wanted to have her last baby in a birthing room. "Dr. Walker was more than open to the idea, even suggesting that the other three children be present for the birth." After going through childbirth classes with their parents, the three children witnessed their baby sister's birth. Kathy's mother was also there for the birth of her granddaughter.
Generations of care
"Dr. Walker knows the whole family and our family history," says Krista Loyas, one of the Johansen's daughters. "I've never felt like I'm just another number. He always takes time and it's not just what's going on medically. He always takes time to listen — I told him he can never retire!" Dr. Walker delivered three of Loyas' children and her two grandchildren — Glenn and Kathy's great-grandchildren.
Kaija Vanasse is the youngest of the Johansens' four children, and now has five children of her own, all of whom Dr. Walker delivered. "He makes you feel like you're the only patient," says Vanasse. "He's with you 100 percent. He has gone above and beyond to make sure that he's available by making sure his schedule is open."
More than medicine
Although Dr. Walker provides care for a number of multigenerational families, he says he also gets to know families socially and has supported them during family events. "I have a level of trust with families like the Johansens whom I've known and cared for a long time — but even further, there's a level of friendship," says Dr. Walker. "The Johansens are very supportive of each other; we've had two to three generations in the delivery room all helping the laboring family member. I have the ability to interact at multiple levels."
A community-building system
The Johansen family says they've been satisfied with their care at Mayo Clinic Health System, from appointment scheduling and communication to nurses and their family physician. "I would consider the nursing staff my friends," says Kathy. "The whole place feels very family-oriented."
There is a unique element to health care in the surrounding communities that Mayo Clinic Health System serves. Dr. Walker sums it up in one word: continuity. "If I see somebody in the clinic who has dealt with a health problem, they might come up and tell me about the outcome as I see them in town," he says. "It allows me to have more continuity with patients and allows families to have a degree of confidence in their care. That's the definition of our practice."
---
For the safety of our patients, staff and visitors, Mayo Clinic has strict masking policies in place. Anyone shown without a mask was either recorded prior to COVID-19 or recorded in a non-patient care area where social distancing and other safety protocols were followed.
Topics in this Post