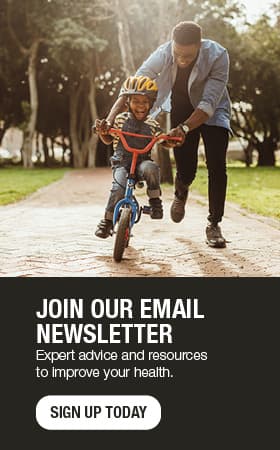 A special Mother's Day: part 1 of 2
New mom Leanna Munoz has reason to celebrate this Mother's Day. A delivery that easily could have ended in tragedy ended up producing a now 3-month-old miracle.
"He is doing just great," Leanna says of her newborn son, Sy. "He is gaining weight and growing like a weed. He keeps me up occasionally at night yet but, for the most part, he is a joy to have around."
Leanna, 30, of Eau Claire, didn't exactly have the delivery she'd dreamed of, though.
Symptoms surface
Leanna — 37 weeks pregnant at the time — was at home with a crippling headache the evening of Jan. 16. Her husband, Fernando, was working a night shift due to end around midnight. Not able to stand the headache any longer, she planned to get dressed and head to the Emergency Department as soon as he returned home.
But by the time Fernando got home, Leanna's headache had subsided. She decided to instead go to bed and report to the hospital if her headache returned.
Around 2 a.m., Fernando heard his pregnant wife scream and saw her having a seizure in their bed. He quickly called 911.
The EMS crew transported Leanna to Mayo Clinic Health System in Eau Claire, where providers quickly worked to evaluate and stabilize the mom-to-be. Christian Peterson, M.D., Emergency Department physician, diagnosed Leanna with eclampsia, a rare but potentially life-threatening complication of pregnancy. The only cure was delivery.
The medical team immediately prepared Leanna for an emergency cesarean section, and baby Sy was born on Jan. 17 at 3:26 a.m. at 6.6 pounds and 19.5 inches long, healthy and thriving.
Rare diagnosis made
Dr. Peterson recalls Leanna's case as being the first case of eclampsia he'd seen in 20 years.
"It's more common in third-world countries or in inner city areas where prenatal care is not being watched as closely," Dr. Peterson says.
More typically, pre-eclampsia develops first, a condition characterized by high blood pressure, protein in the urine and swelling in the feet, legs and hands. Despite Leanna's high-quality prenatal care, her condition progressed rapidly, and she didn't have any of the common telltale symptoms.
"She's one of those that it just came out of the blue," Dr. Peterson says.
Although he suspected eclampsia early on, Dr. Peterson also considered other diagnoses, including a head bleed, stroke or another condition that could cause seizures. To be safe, he called a "medical resuscitation," involving a multidiscipline team of providers, in response to her situation. The team included laboratory, respiratory therapy, chaplain, CT and obstetrical staff.
Based on symptoms, the eclampsia diagnosis was confirmed. In addition to the headache and seizures, she also was confused, in and out of consciousness and agitated.
Jennifer Willette, M.D., the obstetrician-gynecologist on call that fateful night, recalls the C-section being necessary to prevent more seizures.
"To prevent more seizures, the cure is delivery," Dr. Willette says. "The safest way for her was to do a C-section because she'd already had the seizures. The surgery went just fine, and baby came out looking great."
Leanna did "wonderfully" during the surgery, Dr. Willette says, and experienced no further complications. Leanna was transferred to and monitored in Critical Care for a few hours as a precaution before being moved to a regular postpartum room.
Read part 2