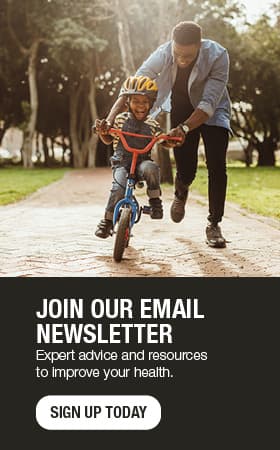 A second chance at life thanks to cardiac rehabilitation
The June morning started out with a two and a half mile run, just like any other day. The only exception, of course, was that it was Father's Day—my day to kick my feet up and relax with my wife and 22-year-old daughter. But something wasn't right.
"Just a pulled muscle from running," I thought as I experienced pain in my lower stomach.
I made the short drive to Mayo Clinic Health System – Red Cedar in Menomonie; the doctor echoed my thoughts but warned me to keep a close eye on it. Before I had even finished the drive home, I turned the car around. For the second time that morning, I went into the clinic. After being monitored by an electrocardiogram (EKG), the medical staff gave me the news.
It was June 17, 2012. I was 59 years old, and I was having a heart attack.
I was transported to Mayo Clinic Health System in Eau Claire where I had triple-bypass surgery. After spending a week at the hospital, I was released; but that was short-lived. The next day, I returned to the hospital in horrible pain.
"We need to remove your gallbladder," the surgeon said.
After another week of recovery at Mayo Clinic Health System in Eau Claire, I was released again.
I couldn't understand how this had all happened to me. I thought I was the last person in the world who would have a heart attack. My whole life I had been active: I ran daily, enjoyed playing basketball and even played professional softball for seven years as a second baseman for the Eau Claire Hooligans. I never even had high cholesterol! Now, I had just spent a total of two weeks in the hospital, survived a heart attack and had two surgeries. My body had let me down.
Then my biggest challenge began.
I had heard people say they felt depressed before, but I never truly knew what that meant—until then. I cried for days and had no desire to do anything active. Even talking with a therapist for a session did not help. I had given up.
When I was given a physician referral to go to the Cardiac Rehabilitation service at Mayo Clinic Health System in Menomonie, I was scared and fought the idea. During the first week, I set the difficulty level on the treadmill at 1.5. It was one of the lowest settings, but it wasn't long before I was struggling to keep up.
I had gotten a second chance at life, but it didn't feel like a good one.
Linnae Frank, registered clinical exercise physiologist, and Jenny Johnson, registered nurse, work at Cardiac Rehabilitation and talked with me about my journey. Those moments did more for me than I ever expected. Through their encouragement, I realized that I could be just as active and athletic as I was before my heart attack. They got me back on my feet.
Within two months, their encouragement helped me start running again. Now, I live every day by trying to do the most that I can: I lift weights, work on things around the house and plan on entering several road races this summer.
I am back to where I was before, and I am proud to say that this Father's Day started out like any other one—with a relaxing morning run.
Topics in this Post