We are experiencing high call volumes:
Use your account on the Mayo Clinic app or patient portal to check symptoms, get care recommendations and make an appointment.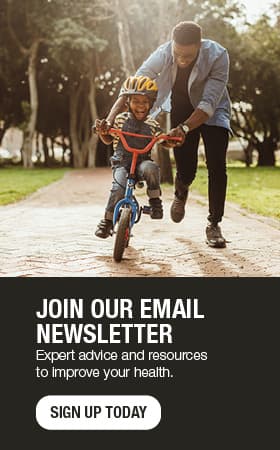 A second chance after traumatic brain injury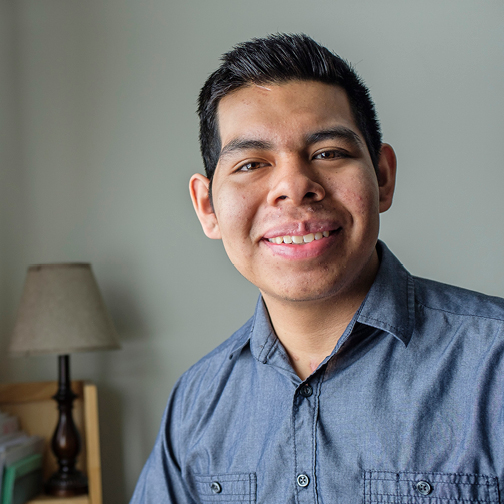 Henry Gomez is grateful for second chances. After sustaining a near-fatal brain injury following a fall in September 2017, the 19-year-old River Falls, Wisconsin, resident says he is making remarkable gains, engaging in favorite pastimes again and preparing for return to college.
He says he couldn't have done it without the support of his family, friends and community.
"It's just really amazing how much positive support I had going around," says Henry, who was a sophomore music education major at the University of Wisconsin-Eau Claire and member of the school's marching band at the time of his injury. "Everyone was wishing me well, praying for me and hoping I'd get better and back to normal — which, thankfully, I am right now."
TOUCH AND GO
Henry's initial prognosis, however, suggested a different outcome.
"When he came in, he was essentially one or two points away from brain death as far as his exam was concerned," explains Jonathan Bledsoe, M.D., a spine and neurological surgeon at Mayo Clinic Health System in Eau Claire, referring to Henry's rating on the Glasgow Coma Scale, which assesses the level of severity of a patient's brain injury. Abilities are scored from 3 to 15; higher scores reflect less-severe injuries. Henry's score came in between 4 and 5.
"He was doing what's called posturing," Dr. Bledsoe says. "When we have a disconnect from around the region of our neck to our brain, the patient develops specific, primitive reflexes. Henry was having those, which is an extremely bad sign that he's had a very severe head injury."
Henry doesn't remember much from the night of his injury. He jumped from a balcony to a garage roof, lost his balance and landed on his head. Within 45 minutes of his arrival at Mayo Clinic Health System in Eau Claire, he was in the operating room and about to undergo an emergency craniectomy, a procedure in which part of his skull was removed — about half of it in his case — to allow room for his injured brain to swell.
"In about 80 percent of cases, we never get a chance to put their bone back. He, fortunately, is one of the few," says Dr. Bledsoe, who, two months later successfully performed a second surgery to replace Henry's bone flap.
Henry's recovery was long and trying. The first week after surgery, he wasn't doing much besides posturing, and his outlook was grim. He spent a week in the Critical Care Unit and two weeks in the Neurology Progressive Care Unit before being discharged to a rehabilitation facility for another month.
"By the time he left rehab, it was still touch and go and day to day," Dr. Bledsoe says.
CHANGE IN OUTCOME
But all that soon changed.
"I saw him in clinic about six weeks later, and the first thing he asked me was, 'When can I start playing my trombone?' It blew me away. I didn't expect him to be doing that well that fast," Dr. Bledsoe says.
At that point, a CT scan revealed that Henry still had some swelling out of the bone. However, a repeat scan a few weeks later showed a different picture, which indicated that Henry was ready for his second surgery. In that operation, Dr. Bledsoe replaced the skull bone with small titanium plates and screws, and closed the area.
Now, just a few months later, Henry says he's doing remarkably well, reports no lingering effects from the ordeal and isn't letting anything hold him back. He says he's feeling "great," is working part-time again and runs at least three miles a day. Just before his injury, he'd registered to run in the Eau Claire Marathon and still plans to run the 26.2-mile race.
"I've been running at the gym, and I'm faster than I've ever been before. I guess a two-month break in the hospital helped," Henry says.
COMMUNITY SUPPORT
Henry says he regrets everything about the night of his injury, including the party he opted to attend, and that he'll be forever thankful to those who supported him and his family during his extensive recovery.
Based on the number of visitors Henry had during his hospitalization, coupled with the benefit concert that was organized at UW-Eau Claire and the Go Fund Me account that was established in his name, Dr. Bledsoe says it was evident at the hospital how much support he had from his family and community.
"I really think this was a good kid who just made a bad decision," Dr. Bledsoe says. "He's a very good kid, comes from a very good family and had good support, and I'm sure that helped out with his care."
Henry remains thankful for Dr. Bledsoe and his entire medical team for the level of care they provided him.
"Oh, they were really nice and just helpful," he says. "Anytime I had questions, they'd answer them immediately or find someone else to answer them. I enjoyed being there with them."
---
For the safety of our patients, staff and visitors, Mayo Clinic has strict masking policies in place. Anyone shown without a mask was either recorded prior to COVID-19 or recorded in a non-patient care area where social distancing and other safety protocols were followed.
Topics in this Post