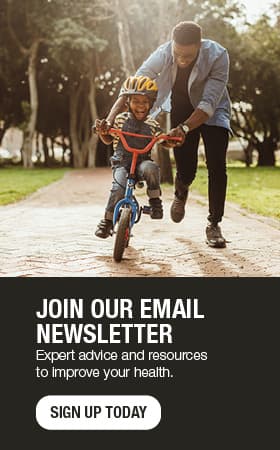 A new me: Small steps lead to big changes
Pam Horlitz was in a place that's familiar to many of us. She was tired and stressed. There were a few too many pounds on the scale. Many of us stay in that place. Horlitz, herself, had stayed there for years. But, two years ago, she decided to change, and she knew she needed help to do it.
"We all know what we need to do to be healthier," she says. "But, we need motivation to actually do it."
Horlitz, 59-year-old Red Wing, Minnesota, resident, found that motivation with the help of two providers at Mayo Clinic Health System: Kathy Lofberg, a nurse practitioner in Lake City, Minnesota, and Nancy Olson, a registered dietitian and certified diabetes educator in Red Wing.
"Kathy really listened," Horlitz says of her first appointment with Lofberg. After hearing the changes Horlitz wanted to make, Lofberg shared tips for getting started and recommended additional resources to help her achieve her goals.
"She gave me tools but pushed the responsibility for my health back to me," Horlitz says. "She made me feel that I could make a difference." Horlitz's blood work had revealed she had prediabetes, meaning her blood sugar level was higher than normal, so she also scheduled an appointment with Olson. Rather than focusing on what foods Horlitz should and shouldn't be eating or a number on the scale, Olson emphasized something else: stress reduction.
"My goal for people is for them to be happy," Olson says. Stress, Olson says, often is the roadblock that keeps people from getting to happy and healthy.
"If we don't get stress under control, it's difficult to make other changes," she says.
Like Lofberg, Olson shared ideas and resources with Horlitz. Then, it was up to Horlitz to use them. And, use them she did.
"I started with small things, like parking further away from where I was going," Horlitz says. As she began making those changes, she also studied the resources that had been recommended, including a blog by Amit Sood, M.D., a professor of medicine and creator of the Mayo Clinic Resilience Program, and The 12 Habits of Highly Healthy People created by Mayo Clinic's Dan Abraham Healthy Living Center. Those 12 habits became touchstones Horlitz used as she worked to transform her life.
"All of the little changes, the little nudges, started to add up," Horlitz says. "I started to feel better."
After enrolling in a weight loss program, she also lost weight — 30 pounds the first year; 15 more the next. It's a loss she's reminded of every day, thanks to a gift from her daughter.
"She gave me a jar of marbles that sits on my kitchen windowsill," Horlitz says. "There's one marble for each pound lost."
But, it's what she's gained over the past two years that's more important.
"I have so much more energy and optimism," she says. "I sleep better. I'm happier. I'm enjoying work more and enjoying home more."
Lofberg says watching Horlitz's journey has been like watching a butterfly flutter by. "You can't help but smile at the simple beauty of it," she says.
She also can't help but smile at Horlitz's commitment to herself.
"Pam took to heart the knowledge that she has control over her world, and she can do whatever she sets her mind to," Lofberg says. "She can teach us all about finding our goals and reaching them."