Right care. Right place. Right time.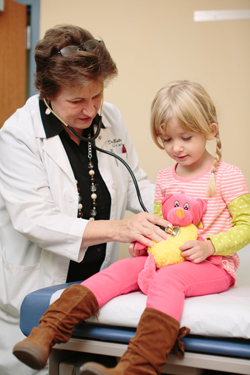 All health care professionals want to provide you with the best possible health care in a convenient and timely fashion. That's why care is offered in a variety of settings. But how do you know what type of care to seek?
911
There are some situations that can't wait, including life or limb-threatening injuries, shortness of breath, difficulty breathing, signs of stroke (sudden numbness, slurred speech, severe headache, weakness on one side of the face or loss of consciousness) or signs of a heart attack (chest pain, pain in the left arm or jaw, sudden weakness or dizziness).
Don't drive yourself to the Emergency Department for these symptoms; call 911 right away!
Emergency Department
The name says it all. If it's an emergency, then you should come to the Emergency Department (ED). An emergency is when a condition arises that you deem severe, oftentimes a life or death situation. Good examples are heart attack symptoms, stroke or a compound fracture — a bone break that protrudes through the skin.
The ED is set up with the resources needed to effectively diagnose and treat life or death situations. Choose the ED if you have immediate worries about your health.
The ED provides care for people of all ages.
Primary Care
Your primary care provider is who you should call to schedule checkups and other non-urgent medical appointments. Remember that your primary care provider knows you, your medical history and what medications you are on, providing continuity of care for you and your family.
Urgent Care
If, from a medical standpoint, you feel like your ailment can't wait until tomorrow, Urgent Care is the place to go. Specializing in the treatment of minor illness and injury, Urgent Care providers commonly diagnose and treat colds and coughs, ear infections, minor burns and cuts, rashes and other non-life threatening conditions.
Think of Urgent Care as the middle-ground between your primary care provider and the ED. But don't use Urgent Care simply for convenience — make sure your need is urgent in nature.
Urgent Care typically treats patients age six months and older.
Express Care
This is the newest and most convenient care option available. Express Care is a clinic that treats minor medical conditions, with no appointment needed. Physician assistants and nurse practitioners assist with minor illnesses, such as treatment of cold and flu symptoms, strep throat and minor skin conditions. Express Care providers can prescribe medications. In an effort to create efficient, timely, cost-effective care for minor ailments, patients can stop by the Express Care Clinic and be seen immediately if an appointment is available, or sign up for an open appointment in the next hour and return at that time.
Express Care typically treats patients ages 18 months to 75 years.
Topics in this Post
Comments (2)
sarah clarkson
Friday, July 20, 2018
I hope you are able to find the best care for your wife! You are aware that health care in the US is extremely expensive and that the province in which you live does not cover care in the US! Good luck to your family
Pijush Majumdar
Friday, December 1, 2017
Hello, We're from Winnipeg, Manitoba, Canada. My wife is going through some health issues, which are progressive....the doctors around us are not able to help! We're hoping to have some expert advice from the doctors from Mayo Clinic (preferably from your Minneapolis unit). Not sure what department I should get in touch with as nothing has been clearly diagnosed yet for her! Please suggest us how to proceed? My ph: (204) 290-6332 Thank you, Pijush Majumdar