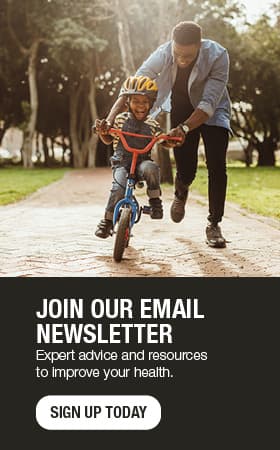 Physical activity: The newest vital sign
By Mayo Clinic staff
Blood pressure, heart rate, height and weight. You're probably used to getting these standard checks when you go to the doctor's office. But there's a relatively new vital sign on the nurse's go-to checklist — physical activity. Why start tracking physical activity? The best answer is that 150 minutes of moderate exercise each week can save your life.
According to the American College of Sports Medicine (ACSM), regular exercise can:
Reduce heart disease risk by 40%
Lower stroke risk by 27%
Reduce diabetes risk by almost 50%
Reduce high blood pressure incidences by about 50%
Reduce mortality and recurrent breast cancer risk by nearly 50%
Lower colon cancer risk by more than 60%
Reduce Alzheimer's disease development risk by one-third
Decrease depression as effectively as certain medications and behavioral therapies
Mayo Clinic Health System began screening patients for physical activity as a vital sign (PAVS) in October 2013. Kaiser Permanente and Intermountain Healthcare currently are measuring PAVS, but Mayo Clinic Health System is the first organization to incorporate strength training into the equation.
Most people think weight training is just for athletes, body builders and for muscle tone. What they aren't aware of are the many health benefits of strength training. Meaningful strength training can help improve bone density, blood pressure, cholesterol, diabetes and self-confidence. Having strong muscles also can reduce workload on your heart and lungs, which is helpful if you have heart or lung disease. These are the reasons why Mayo Clinic Health System includes strength training as part of PAVS.
The PAVS initiative was started through a partnership between the ACSM and the American Medical Association to promote the importance of exercise as a way of treating and preventing disease. The long-term hope is to make measuring PAVS a standard medical practice throughout the nation.