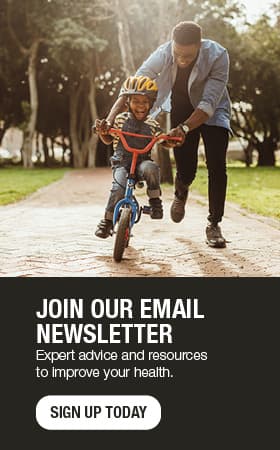 Pet dog brightens days of hospice patients
by Cindi Thurston, Hospice Volunteer
My first experience with pet therapy was when my daughter was hospitalized with a serious medical condition. We were waiting to determine when surgery would take place. We were hours away from home, spending nights in the hospital and watching my daughter struggle. We tried movies, books, crafts and anything we could think of to take our minds off her condition.
One morning, a pet therapy team walked into our room. The dog was placed on my daughter's hospital bed, and I could feel some of the anxiety and stress go away for her and me. The dog was cute, cuddly and happy, all of which we needed at the time. My daughter went on to have surgery, and all was well. I promised myself I would someday try to pay back that gift given to us by that pet therapy team.
A few years later, we had the opportunity to have a golden retriever puppy join our family. The puppy's mom was a pet therapy dog, and we all agreed our puppy, Watson, had the personality to do pet therapy, as well.
In fall 2015, Watson and I were trained in the Pet Partners pet therapy program sponsored by Mayo Clinic Health System. As part of the program, we were asked if we would be willing to do pet therapy through their hospice volunteer program. I didn't volunteer at first, because I didn't know how Watson or I would do with hospice patients. We were later convinced and started volunteering in February 2016.
Since then, Watson and I have visited several facilities to see hospice patients. Several of the patients are not able to speak, so I first wondered whether we were being of any benefit. One patient in particular we had visited three times, and she hadn't said a word to us. However, she always made eye contact. On our fourth visit, as we were leaving, I said to her that we would stop again soon to see her. She spoke to us for the first time saying, "I hope you do." I knew at that moment that Watson and I were making a difference and were giving back what my daughter and I were given in the hospital so many years before.
Watson loves people and life. His energy and joy in seeing anyone is contagious. I would encourage anyone who is interested in pet therapy to be trained as a Pet Partner's team and volunteer in hospice.