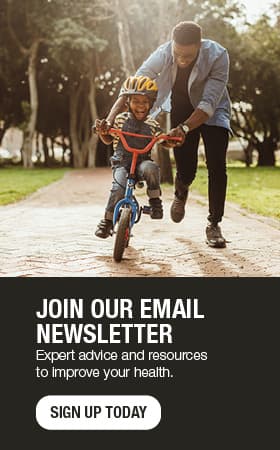 Paws Force: Offering a helping paw to patients in need
My name is Eugene Gagnon. I began volunteering in Eau Claire in June 2016. My dog, Bernie, and I volunteer together on the Paws Force team. Paws Force is a pet therapy program at Mayo Clinic Health System in Eau Claire that provides animal-assisted therapy to patients in need of comfort or a smile. Therapy dogs can brighten a patient's day and aid in healing for those suffering from illness or injury.
Bernie is my nearly three-year-old golden doodle which is a cross between a golden retriever and a poodle. A fun fact about Bernie is that he was born on Valentine's Day in 2014. Bernie is friendly, well-behaved and loves meeting new people of all ages. In order to be a therapy dog, Bernie and I completed the Therapy Animal Program through Pet Partners and the Therapy Animal Handler course. We will be recertified every two years.
Bernie and I love visiting patients at the hospital in Eau Claire. On Thursdays, Bernie and I visit various patients during our one-hour shift. We visit anyone in need of a smile or a friendly chat or discussion. Sometimes, Bernie is the main focus of the visit. Patients can pet Bernie and talk to both of us. This allows me to get to know each patient through Bernie.
Other times, Bernie listens along while the patient and I talk; sometimes, patients just need a listening ear. Although we are still working on different tricks, Bernie knows how to sit, lie down and shake. At the end of our visits, I give each patient one of Bernie's business cards. It's a great way to get patients to smile!
During two recent visits, I felt Bernie made a significant impact on people's lives.
One day, a lady stopped us in the hallway of the hospital and asked if Bernie and I could make a visit to her mother's room. She told me that her mother loves dogs. Of course, I said yes; that's the reason why we are here! We followed her to her mother's hospital room. As we entered the room, she announced to her mother and other family members that Bernie the therapy dog was here to make a visit. When her mother spotted Bernie, she gave out one loud squeal of delight. As we approached the bed, the lady put her hand out and Bernie snuggled right up to her. As the two of them continued to touch, I introduced Bernie to her and told her a little information about him. I didn't notice that she wasn't responding to me, but she kept looking at and touching Bernie. When I looked up at the family members, all had tears coming down their cheeks. At that moment, I didn't understand what was going on. After a while, I announced that it was time for Bernie and I to leave. Everyone in the room was thanking us for coming. The significance of our visit became much clearer when we got out into the hallway and a group of nurses had gathered outside the door. When they heard the loud squeal that came from the lady's room, it turned out that this woman had not made any sounds for a very long time. Bernie had triggered something in her, and the family was overjoyed.
Another day, I received an email from Volunteer Services asking for a therapy dog visit to a terminally ill woman. When we arrived at the hospital room, we were greeted by the daughter who explained to me that her mother loves dogs, and she thanked us for coming. When we entered the room, I found the patient lying on her side in the bed, so weak that she couldn't turn around and greet us. We walked around to the other side of the bed so Bernie could face her directly. She could barely move or talk, but she managed to stretch her hand out towards Bernie. I pulled the chair next to the bed, and they sat face to face. At that point, they were both able to see each other. Bernie nuzzled up to her hand and gave her a few licks, and she took her finger and touched his nose. The daughter and I watched this for about 20 minutes until her mother fell asleep. At that point, Bernie and I excused ourselves and left the room. It wasn't until the next week that one of the nurses told me that the lady had passed away later that day, and the family was very appreciative of our visit. I thought to myself, "Wow, Bernie and I were able to grant somebody's final wish." What an honor and a privilege!
My favorite part about volunteering on the Paws Force is making someone's day a little brighter with Bernie's help. Dogs are nonjudgmental, calming and help get your mind off a bad day. Bernie is a very important part of my life, and we hardly are ever separated. To be able to work with Bernie to help those in need is a truly amazing experience.
You, too, can volunteer at Mayo Clinic Health System. You must be at least 14 years old to volunteer. All ability levels are welcome. Sign up to volunteer at a location near you.