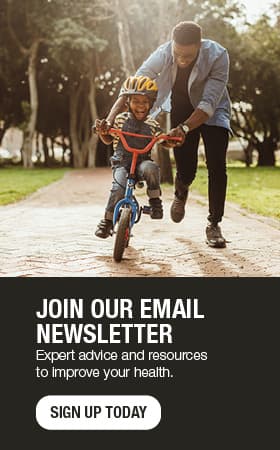 Focusing on the 'health' in 'health care'
At Mayo Clinic Health System, we're in the business of keeping you well.
That may seem obvious. But for many years, health care providers were more focused on taking care of people when they were sick. We've begun to realize the real goal of health care should be keeping people healthy — and out of the doctor's office.
That's why we're partnering with organizations like Mower Refreshed, a wellness movement dedicated to making healthy choices easier in Mower County, Minnesota. In western Wisconsin, we're part of Wellness ROCKS, a community-based health education program. You can talk to your provider to learn about similar partnerships in your area and how you can get involved.
But no matter how focused you are on staying healthy, there will still be times you'll need to see a health care provider. We want to make sure you have a lot of options when you do. Sometimes, you'll see your primary provider. Other times, another member of your care team, such as a nurse practitioner or dietitian, will be a better fit. Many minor illnesses can even be diagnosed and treated through our nurse line or Patient Online Services.
Why so many options? Because health care is not one size fits all. Your needs are different from your neighbor's, and may be different this year from last year's needs. Our goal is to provide you with exactly the right care, in the right place, at the right time — each time.
---
Dr. Whited became the interim physician leader of Mayo Clinic Health System in July. He succeeded Rob Nesse, M.D., who is serving as senior medical director of Payment Reform for Mayo Clinic. Dr. Whited serves as vice chair of Operations for Mayo Clinic Health System and was previously medical director of Mayo Clinic Health System in Mankato from 2007 to 2010 and CEO of Mayo Clinic Health System in Owatonna from 1995 to 2007.
---
For the safety of our patients, staff and visitors, Mayo Clinic has strict masking policies in place. Anyone shown without a mask was either recorded prior to COVID-19 or recorded in a non-patient care area where social distancing and other safety protocols were followed.