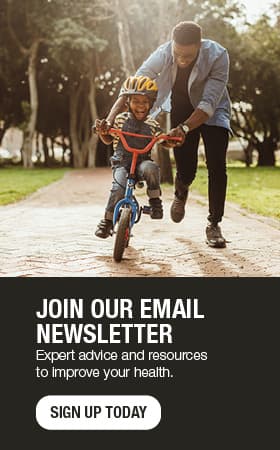 Connecting with your health care provider
Technology has changed the ways we live, work and play. Increasingly, it's also changing the way we deliver health care.
At Mayo Clinic Health System, we're using technology to make care more convenient for you. Through Patient Online Services, we've created a portal that you can use to renew prescriptions, request an appointment and check your health records. In some cases, you can even get advice and support from your health care team.
Best of all, you can do this from your own home, whenever it is most convenient for you. Patient Online Services is a good way to get the information you need without waiting on the phone. We all need to make good use of our time. Look under Patient Stories to see how Mayo Clinic Health System patients are using the portal to manage their health care. Let us help you to get the care you need as close to your home as possible. If you need help enrolling in our online services, call the support line at 1-877-858-0398 (toll-free).
We're using technology in other ways too. Through eConsults, your provider can now easily consult with Mayo Clinic specialists about your care. These online consultations are perfect for targeted questions that don't require a new examination or additional testing. Some of our intensive care units are now monitored electronically by physicians and nurses in Rochester, Minnesota, adding an additional level of safety to the care patients receive from providers at the bedside.
Technology is making it possible to connect and provide care in new ways, and we think that's exciting — and good for your health.
Robert E. Nesse, M.D., CEO
Mayo Clinic Health System
---
For the safety of our patients, staff and visitors, Mayo Clinic has strict masking policies in place. Anyone shown without a mask was either recorded prior to COVID-19 or recorded in a non-patient care area where social distancing and other safety protocols were followed.