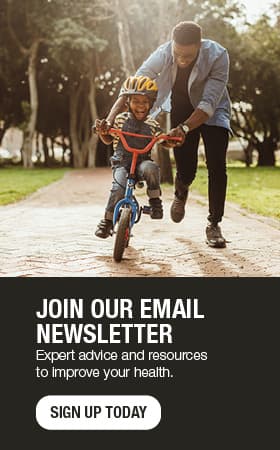 Local physician couple saves passenger's life: A mile-high medical tale
Married couple Gagandeep Singh, M.D. (second from left), and Chetna Mangat, M.D. (right), of Eau Claire, Wisconsin, were traveling with their two children on an airplane when a passenger went into cardiac arrest. The couple performed CPR on the woman until she regained consciousness.
Most people who fly worry about leg room, layovers and lack of storage space for their carry-ons. Few have to worry about saving someone's life at 30,000 feet.
When married couple Chetna Mangat, M.D., and Gagandeep Singh, M.D., of Eau Claire, who work for Mayo Clinic Health System in Pediatric & Adolescent Medicine and Family Medicine, respectively, boarded a flight from Minneapolis to Phoenix in October, they didn't know they would be putting their medical training to work before they reached their destination.
The couple were traveling with their son (6) and daughter (2) when a passenger in the seat ahead of them went into cardiac arrest.
"It was about an hour into the flight, and the flight attendants were serving drinks," says Dr. Mangat. "The woman in front of me was found nonresponsive by her partner. He and the flight attendants started shouting for help."
TRAINING AND TEAMWORK TO THE RESCUE
The couple wasted no time jumping in to assist.
"Gagan swiftly went to the woman's seat and confirmed that she was nonresponsive," says Dr. Mangat. "He put her on the floor in the aisle. She had no pulse at all."
Working in the narrow aisle, Dr. Singh began mouth-to-mouth resuscitation, while Dr. Mangat performed chest compressions from her seat. A nurse and a surgeon, who also were traveling on the plane, came to assist. They analyzed the woman's heart rhythm with the plane's automated external defibrillator, but determined she did not need to be shocked. After a few minutes of CPR, the woman's pulse came back, and she regained consciousness. While the dramatic scene played out, Dr. Mangat says training kicked in, and the only thought was helping the woman.
"You don't even think about where you are," says Dr. Mangat. "You perform your duty." Dr. Singh, who also works in the Emergency Department, is no stranger to life-threatening situations, though his children usually are not watching.
"The situation was nothing new for me, but it was concerning because my son was watching, sitting right next to me," he says. "After it was all over, he asked, 'Daddy, why were you pressing her tummy?'"
While the couple focused on saving the woman, a passenger helped keep their daughter calm by talking to her and keeping her occupied.
A SIGH OF RELIEF
The woman and her companion expressed their thanks, obviously shaken by the experience. The plane was diverted to Lincoln, Nebraska, where the woman was taken away in an ambulance. Seven hours later, the plane continued on its way to Phoenix.
Attending a medical conference in Sedona, Arizona, the next day, the couple says they had quite a story to tell their boss, Richard Helmers, M.D., regional vice president, Mayo Clinic Health System, northwest Wisconsin, who was there to give a presentation.
"It was impressive," says Dr. Helmers. "Getting the call, 'Is there doctor on the plane?' is very stressful. You're suddenly asked to provide medical care to someone you don't know in front of 200 people without any equipment. It is admirable that they responded, knew what to do and, undoubtedly, saved this woman's life."
The couple never learned the woman's name or what happened after she was taken away by the ambulance crew. They received thank-you emails and travel vouchers from American Airlines, though they asked for no reward. Dr. Singh says he and his wife are just glad they were able to help.
"It was a great feeling," says Dr. Singh. "I can say, 'Well, we did something good.'"
---
Drs. Mangat and Singh were awarded the 2018 Health Care Heroes Award from the American Red Cross of Northwest Wisconsin. Listen to them tell the story of their life-saving actions:
---
Watch this video to learn how to perform hands-only CPR:
What to do if you are untrained in CPR, and someone is unresponsive and has no pulse:
Call 911.
Put the person on his or her back on a firm surface.
Kneel next to the person's neck and shoulders.
Place the heel of one hand over the center of the person's chest. Place your other hand on top of the first hand. Keep your elbows straight, and position your shoulders directly above your hands.
Use your upper body weight, not just your arms, as you push straight down on or compress the chest at least 2 inches, but not greater than 2.4 inches. Push hard at a rate of 100 to 120 compressions a minute (about the tempo of the song "Stayin' Alive").
Continue chest compressions until there are signs of movement or until emergency medical personnel take over.